State Duma takes up transportation safety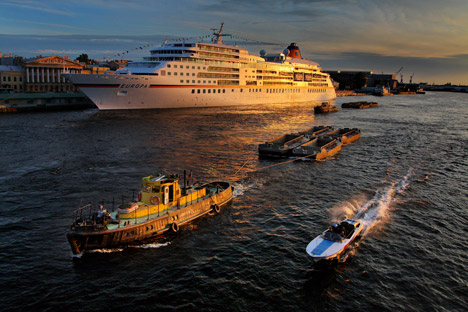 The recent incidents with the Bulgaria cruse ship has gave a reason to the authorities to come up with a bill which will address state management of inland waterways and strengthen state supervision of passenger boats, railways and cars. Source: Komm
The new legislative session has gotten underway as the State Duma addresses concerns over safety on the water, on the roads and in the air.
The first session of the new State Duma, which began last week, has already attracted widespread attention: On the agenda is a draft bill on transport security, which is an attempt to respond to last year's terrible catastrophes.
In January 2011, a bombing rocked Moscow's Domodedovo Aiport – an inauspicious beginning to a year that included the sinking of the Bulgaria cruise ship, the death of the entire Yaroslavl Lokomotiv hockey team in a plane crash and the collapse of the Kolskaya oil rig.
This new bill, which was initially proposed last fall, addresses state management of inland waterways and strengthens state supervision of passenger boats, railways and cars. Several more bills related to transport will reportedly follow. The State Duma has promised that the spring session will generally be dominated by sea and river issues.
But will the authorities' new initiatives ensure transportation safety? A source inside the Duma's Committee on Transport gave an overview of the proposed legislation to Ogonyok magazine. For water transport, the primary proposal is to establish an administration of river basins, analogous to the Maritime Administration, which oversees ocean transport. These offices are responsible for ensuring that vessels leaving the port comply with safety requirements. The bill also stipulates compulsory insurance, increasing administrative responsibility for unlicensed activity, and a host of other measures. For example, it significantly increases the fine for unlicensed activity.
"The first reading is scheduled for Jan. 27," said the Committee on Transport source. "After that, the law will be submitted for public consideration, a working group will be created."
However, the transport industry is already aware of upcoming changes. Alexander Zaitsev, president of the Association of Ports and Shipowners of River Transport, noted that his organization has already sent some proposals to the Duma.
"In general, we support the establishment of a system where, for example, each company has a person in charge of safety," Zaitsev said. "An increase in fines also appears to be necessary, but we feel the chapter on the carrier's liability to third parties – that is, compulsory insurance – is ill-conceived. So far, it appears that we will have to pay insurance companies more than we earn. Also, there is no need, in our view, to create a new control and supervision structure––the Federal Service for the Oversight of Transport (Rostransnadzor) is enough, it just needs to be strengthened."
Meanwhile, aviation representatives have also made suggestions as to what the government can do to improve air safety. According to Oleg Smirnov, Commission Chairman for Rostransnadzor's Public Council, a Safety Management System for flights is necessary. This system is recommended by the International Civil Aviation Organization (ICAO) and provides ongoing analysis of a situation at the national level. "Ultimately, 50 percent of our air travel goes abroad, which means that we are obliged to follow international standards," Smirnov said. "But so far I haven't heard that any such initiatives have been submitted for discussion in the State Duma."
This article originally appeared in Ogoniok Magazine. The original Russian text can be found here: http://www.kommersant.ru/doc/1847490
All rights reserved by Rossiyskaya Gazeta.