Falling, one BRIC at a time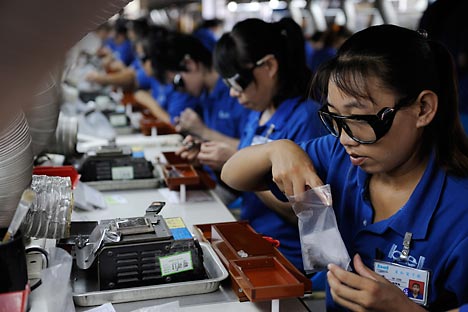 "Last year only China remained a true growth locomotive for the BRICs," said Andrei Tolstousov, portfolio manager at the Moscowbased Grandis Capital investment company. Source: Alamy/Legion-Media
After 10 years of rapid growth, the good times could be coming to an end for Brazil, Russia, India and China, the so-called BRIC group of emerging economies.
At least that's the message of a report released last month by Goldman Sachs, the major U.S. investment bank which drew the four countries together under one title back in 1991.
In a December report, the bank says that, although the BRIC countries are still on course to catch up with the world's developed countries, they have already made their biggest changes to the world economy and their rapid growth levels could now be beginning to slow.
"Ten years ago it was Jim O'Neill, then Goldman Sachs' head of economic research, who coined the term 'BRICs,' saying these countries would make a tectonic shift as their economies grew so fast that they were expected to outrun the major developed countries," Goldman Sachs said in a report entitled 'The BRICs 10 years on: Halfway Through the Great Transformation.'
Slowdown approaching
The report forecast a gradual slowdown in BRIC countries' GDP growth in the next few decades, especially visible when the group is compared with nations such as Indonesia, Nigeria and Turkey, whose growth, from a lower level, may begin to overshadow the BRICs in the next five years.
"While the rise in the BRICs and emerging market share…still has a long way to run, the biggest contribution to growth has largely occurred and investors may need to look deeper under the surface of the macro landscape if they are to earn above-average," the Goldman Sachs report said.
Recent figures back up the report's findings. Last year the BRIC countries recorded $15 billion in capital outflows, in contrast to the $70 billion poured into the countries by mutual funds in the past decade, Bloomberg reported, citing data from Emerging Portfolio Fund Research.
"Last year only China remained a true growth locomotive for the BRICs," said Andrei Tolstousov, portfolio manager at the Moscowbased Grandis Capital investment company. "Average GDP growth rates for the other BRIC countries stood at around 3.8 percent last year, which was still higher than growth rates for developed economies."
The report had some sobering forecasts in store for Russia, predicting in particular a slowdown in GDP growth to just 1.8 percent in 2040-50, compared with 5.8 percent for Bangladesh.
The forecasts say, however, that Russia's GDP per capita in 2050 will be higher than the other BRICs, at around $63,486, compared with $40,614 for China and 43,586 for Brazil.
Reliable forecast?
But Russian analysts dispute the figures, saying that they are based too heavily on population dynamics, which causes Russia, with its currently aging population, to fall short.
"The forecasts for a significant drop in Russian GDP growth are largely based on a prediction by HSBC that the Russian population will decrease to 120 million [from the current 140 million] in 20-30 years," said Alexander Osin, chief economist at Moscow-based Finam Asset Management.
In his view a sharp deficit in natural resources will place a burden on the growth of highpopulation economies and cause the BRIC countries to develop in different ways.
"Goldman Sachs must have used a so-called regressive model [to calculate its forecasts,] based on existing dynamics, which do not take into account some fundamental factors, which could play a positive role for Russia," said Tolstousov, of Grandis Capital. "Russia's market economy has a history of just 22 years, not nearly long enough to use plain mathematical methods to forecast its economy."
Both analysts noted that future growth levels of the Russian economy were largely based on policies taken by the state to change the population dynamics and diversify the economy away from a reliance on oil and gas.
"If the state succeeds in its infrastructural program, the depopulation factor will be reduced, as Russia will become a better place to bring up a family," Tolstousov said.
All rights reserved by Rossiyskaya Gazeta.