Russian money for U.S. films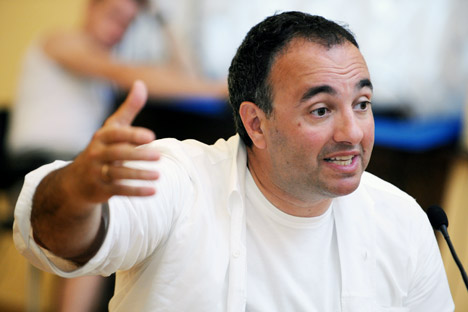 Russian producer Alexander Rodnyansky. Source: ITAR-TASS
Russian producer Alexander Rodnyansky sets up a fund for making films for the American market.
Russian producer Alexander Rodnyansky is the co-founder of a $120 million fund that intends to finance six full-length feature films for distribution in the United States over the next few years.
His AR Film company will partner with the Media Talent Group, headed by Geyer Kosinski, who is better known as the agent of Angelina Jolie and producer of the film "Changeling." AR and the Media Talent Group have already made the $12 million film "Jayne Mansfield's Car," directed by Billy Bob Thornton, which will premiere at the Berlinale international film festival. In 2012, Rodnyansky and Kosinski plan to release a screening of Brock Cole's novel "The Goats," currently being completed by D.J.Caruso on a budget of $6 million.
The AR Films fund will enable the partners to make six more $20-million films in 2012-2014, said Kosinski. Rodnyansky describes these films as "intelligent, character-driven films." Without giving names, Rodnyansky promises that the films will feature leading world stars.
Most contributors to the fund are private investors from Eastern Europe, Asia and the United States; there are none from Russia. The fund's managers promise at least a 10-15 percent return on an investment. The fund will follow the model common in the U.S. film industry: the creative team – from director to actors – will not receive any royalties until all settlements have been made with investors. If the film does well at the box office, investors may look forward to a 20 percent bonus.
In 2002, Alexander Rodnyansky became the General Director of the STS TV channel and, subsequently, the entire STS Media holding structure. He left the company in 2009 to set up AR Films. He acquired a controlling stake in the company Non-Stop Production; the distributor Cinema Without Frontiers; the German A Company, which distributes TV and film content in Eastern Europe; and became the sole owner of Sochi's Kinotavr Film Festival.
The figure of $20 million per film is calculated to allow for a profit. Andrei Smirnov, President of Sistema Mass Media, notes that a budget of $20 million will enable a film to recoup its costs through international sales for distribution, TV and DVD. Rodnyansky added that tax benefits from the states where films are shot yield substantial economies. For example, the state of Georgia returned 25 percent of the investment in "Jayne Mansfield's Car." Rodnyansky promises to release up to three Russian-language pictures a year and has said that he plans to continue living and working in Russia.
First published in Kommersant.
---
Russian directors and producers in Hollywood
The first attempt by a Russian to work in Hollywood was made by director Sergei Eisenstein in 1930, when he signed a contract with Paramount Pictures to produce a script for Theodore Dreiser's novel "An American Tragedy." The studios later rejected his screenplay.
In the early 1980s, Andrei Konchalovsky began working in the United States and made the films "Maria's Lovers," "Runaway Train" (1985), "Homer and Eddie" (1989), and "The Odyssey" (1997). In 1989, his $55 million film "Tango and Cash" starring Sylvester Stallone and Kurt Russell took in more than $63 million.
Actor and director Rodion Nakhapetov's best-known Hollywood film was the $10 million thriller "Border Blues" (2004). His other films made in the United States are "Telepathy" (1997) and "Contagion" (2008). In 2011, Nakhapetov was reportedly preparing to bring Ray Bradbury's story "Dandelion Wine" to the screen.
Timur Bekmambetov, former clip maker and director of "Night Watch" ("Nochnoi Dozor"), began his Hollywood career in 2008, when he made the $75 million film "Wanted." The film, starring Angelina Jolie, grossed more than $340 million. Bekmambetov also produced the animated cartoon "9" (2009), "Phantom" and "Apollo-18" (both in 2011). He is currently completing a $70 million picture, "Abraham Lincoln: Vampire Hunter" in collaboration with Tim Burton.
All rights reserved by Rossiyskaya Gazeta.