Republic Day: Indian envoy upbeat about Russia ties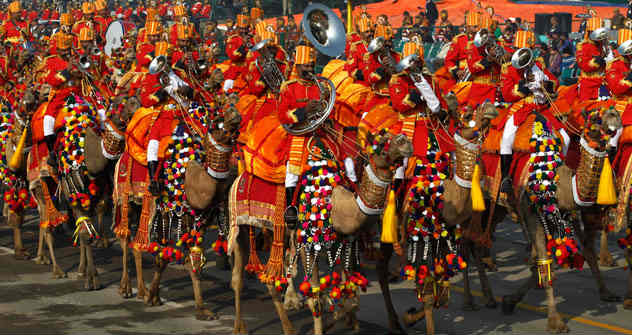 A camel mounted contingent of Border Security Force plays music during the final rehearsal of Republic Day parade in New Delhi, India, Monday, Jan. 23, 2012. Source: AP
On the eve of the Republic Day of India, Indian Ambassador Ajai Malhotra spoke of the Indo-Russian partnership and highlighted the key areas of cooperation between the two countries.
The ambassador shares his view of the Indian-Russian relations at the current stage and underlines the most perspective areas:
"I would describe the present stage of our relations as unique, deep-rooted and time-tested. The year 2011 has witnessed intense high level bilateral dialogue and engagement. Our ties have gained enormous variety, depth and strength over the decades and are poised for even further diversification during 2012. Pillars of our cooperation include defence, space, nuclear energy, S&T, trade and economy, tourism and culture. Russia's modernization programme and economic reforms and recent WTO membership open up new opportunities. Cooperation in hydrocarbons, science and technology, pharmaceuticals, fertilizers, diamonds, IT, coal, and steel are amongst key focus areas".
In 2012 Russia and India will take part in several international meetings together and in bilateral events. The ambassador tells us about some of them:
Ajai Malhotra. Photo: RIA Novosti
"We await visits to India by the President of Russia in late March 2012 for the BRICS Summit and in end 2012 for the by now traditional, annual India-Russia Summit. On April 13 this year we celebrate 65 years of India-Russia diplomatic ties. To commemorate it, we are drawing up an extensive calendar of academic and cultural activities, seminars, exhibitions and other events. Later this year, we will also host a "Festival of Russia in India" and "Days of Moscow in Delhi".
India is interested in expanding contacts with Russia in a tourism field. According to statistics, the number of Russians going to Goa, Kerala, north and south parts of India for vacation grows steadily. The Association of Tour Operators states that Indian direction remains one of the most popular among Russian tourists.
However, there are reports in the media about the difficulties faced by women from CIS and Russia travelling in India. The Ambassador replies to those media allegations:
"India warmly welcomes tourists from Russia, and indeed from all parts of the world, and there is no policy to subject visa applicants from any country to greater scrutiny on the basis of their gender. Visas are issued following standard procedures that are common to most diplomatic missions. Let me add that we had liberalized our visa regime in June last year for Russian tourists visiting India and are now routinely giving six month multiple entry visas to Russian tourists, compared to one month single entry visas earlier. I may also add that we are even thinking on the lines of visa on arrival for Russian nationals," stated the ambassador Ajai Malhotra.
All rights reserved by Rossiyskaya Gazeta.