Maria Sharapova moves on in Australian Open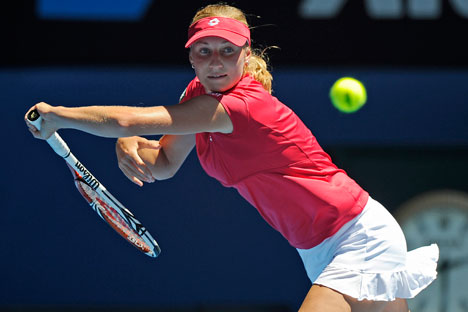 Ekaterina Makarova. Source: AP
Tennis star vaults into the semifinals by defeating fellow Russian Ekaterina Makarova.
Maria Sharapova has advanced to the semifinals of the Australian Open, the first grand slam tennis tournament of 2012. Sharapova seems on course to continue through the tournament, having given up only 10 games in the tournament so far. Unfortunately, to make it to the semis, Sharapova had to defeat fellow Russian Ekaterina Makarova, who made it to the quarterfinals by defeating American Serena Williams.
The achievement was a career-high for Makarova, currently ranked 56 in the WTA and a veteran of the tennis circuit at 23. To the distress of Williams, who made 17 unforced errors, Makarova took the first set 6-2 in just under half an hour of play. Williams woke up at the beginning of the second set, breaking the Russian's first serve, but Makarova came back to win the second set 6-3.
"This is probably the most important victory of my career," said Makarova in an interview with Sovetsky Sport shortly after the game. From a purely practical point of view, this media triumph will likely garner her several wild card invitations to tournaments despite her ranking.
Makarova, who was born in Moscow in 1988, started in tennis when she was barely six years old at the Luzhniki Club in Moscow and began her professional career at 15. Yet this quick jump to the professional circuit took its toll. The results were slow to arrive and it was not until 2009 that her name appeared among the world's top 100 ranking. By mid-2011, she had reached her best world ranking to date: 29th.
While the health of Russia's women's tennis remains vigorous, these are not so good times on the men's side. Alex Bogomolov, Jr., who only reached the second round, turned in the best peformance for Russian men in this Australian Open. Mikhail Youzhny and Igor Andreyev are in clear decline; Marat Safin has retired and gone into politics, and Nikolay Davydenko at the age of 30 and ranked 52, will also surely leave the tour soon.
All rights reserved by Rossiyskaya Gazeta.