U.S.-Russia Civil Society Working Group to get less civil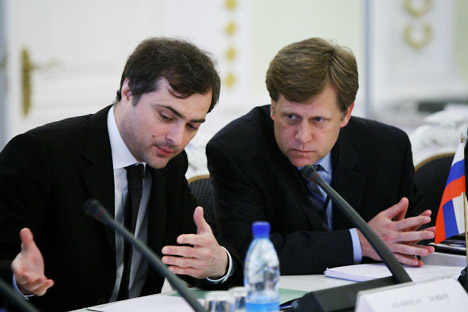 Former Head of the Presidential Administration Vladislav Surkov and new U.S. Ambassador in Moscow Michael McFaul (L-R at the table) during one of the sessions of the Civil Society group. Source: RIA Novosti
With co-chairs who have already expressed vastly different views of the world and of human rights, one branch of the U.S.-Russia Presidential Commission could suddenly find itself in the spotlight.
One of the key divisions of the U.S.-Russia Presidential Commission – the Civil Society Working Group – has had a change in leadership. Diplomats Konstantin Dolgov and Thomas Melia will replace political co-chairs Vladislav Surkov and Michael McFaul, who have left the administrations of the Russian and U.S. presidents, respectively.
Now U.S. ambassador in Moscow, Michael McFaul said that he was pleased with his experience working with Surkov. "I had a few misconceptions about him. There are a lot of rumors about his work; he's a familiar figure to anyone who follows Russian political life. For me, it was useful to meet him and have the opportunity to talk with him regularly, rather than just read about him in American and Russian press," McFaul said. "We learned something from each other. And that was good. The result of our work was more close cooperation, and fewer stereotypes and mythological notions of each other."
However, almost nothing is known about the concrete results of the group's work under Surkov and McFaul. This is possibly because its work was not public, and the outcomes of its meetings were not only unavailable to the public, but were not documented at all.
"In my opinion, it's a mistake that the Commission did not draw up any documents of their activity", said Andrei Babushkin, a member of the group and head of the human rights organization For Human Rights. "Surkov initially said, 'Our task is to discuss problems.' He considered wasting time coordinating positions or written statements unnecessary."
Babushkin was echoed by Yelena Panfilova, head of the Russian chapter of Transparency International: "Surkov would meet with McFaul and other government officials, discuss something, and then tell the rest of the committee members in a very restrained form what they agreed to."
Russian human rights activists are only glad about Vladislav Surkov's departure from the group. "I'm not a bit sorry about his resignation from the Commission – the destruction of civil society was one of this official's main objectives," said Lyudmila Alexeeva, head of the Moscow Helsinki Group. Lev Ponomaryov, director of the Russian movement For Human Rights, called the personnel reshuffles in the group logical: "Replacing Surkov with Dolgov is a completely reasonable step, because now the commission will be led by someone with a direct relationship to international activity."
The change in co-chairs may result in fundamental changes in its work. If Surkov and McFaul were to a large degree political appointees who conferred to this body some status while Russia and the United States were resetting their relations, Konstantin Dolgov and Thomas Melia are professional diplomats. And both specialize in human rights issues.
With these co-chairs, the working group, which previously shunned publicity, could become a platform for a public showdown.
Especially since Dolgov and Melia have, in fact, already gotten into a dispute, if not in person. In mid-December, Melia appeared before the U.S. Senate, where he called Russia's State Duma elections "fraudulent," and expressed concern about flourishing anti-Semitism, xenophobia, homophobia, and intolerance towards religious minorities in Russia. Most of all, he was outraged by the situation in the Northern Caucasus where, he says, "Serious human rights violations by security forces and other parties continue unabated, with ongoing reports of killings, torture, and politically motivated abductions." Thomas Melia is a staunch supporter of sanctions against violators of human rights. He supports a ban on entry into the US for Russian officials involved – in Washington's view – in the death of lawyer Sergei Magnitsky.
And Konstantin Dolgov has registered harsh criticism towards the U.S. In late December, he presented a report to the Russian Foreign Ministry, "On the Situation Concerning Human Rights in Certain States," much of which was devoted to the United States. In it, he in particular pointed out that there are problems with freedom of speech, as well as "aggravated long-standing systemic problems, among which are racial discrimination, xenophobia, over-crowding of prisons, unreasonable use of the death penalty, particularly against the innocent, minors, and the mentally ill, the imperfections of the election system, corruption."
In the near future, the diplomats-turned-co-chairs will be able to argue with each other in person. Right now, preparations are underway for the first meeting of the updated group.
First publishded in Kommersant.
All rights reserved by Rossiyskaya Gazeta.