Russian Railways plans international expansion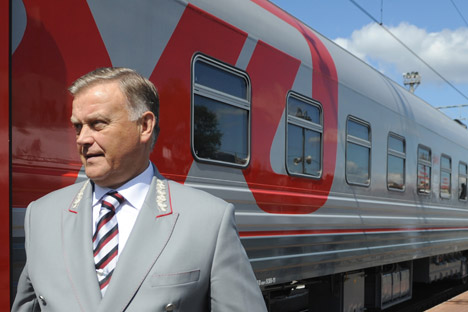 Russian Railways (RZD) President Vladimir Yakunin at the innovative train exhibition. Source: ITAR-TASS
New gauge systems will allow Russian trains to travel more easily to Europe while Russian Railways explores development in other parts of the world.
By the end of this year, trains equipped with automatic track gauge changeover systems will be put into operation on routes between Russia and European capitals. This will allow the trains to continue into the European Union without having to readjust their gauge at the Russian border. A total of 10 international train routes originate in Russia, continuing on to Romania, Germany, Hungary, and France.
Russian Railways (RZD) President Vladimir Yakunin announced this development to journalists in Brussels after the opening of the European Parliament's first ever expo devoted to Russia's railways.
The new Talgo train transformers will be received by June of this year and will run on the Moscow-Kiev and Moscow-Berlin routes. As a result, the journey to Berlin, for example, will be reduced to nine hours. Russian railway personnel have also ordered seven 20-car trains with the automatic gauge changeovers at a cost of 135 million euros ($177.5 million). Under the terms of the contract, the trains must be delivered in 2014 and 2015.
Russian railway workers have big plans for the restoration of railways in southern Europe in preparation for a possible southern transport corridor. "We are considering participation in modernizing infrastructure in some southern European countries," Yakunin said. In March 2011 at a meeting between Russian Prime Minister Vladimir Putin and Serbian President Boris Tadic, the two discussed an $800 million loan, part of which would be used to improve rail infrastructure in Serbia. RZD subsidiaries could collaborate with Serbians in modernizing the railway station in Belgrade and two segments of the local railways using this line of credit.
The leaders of the European Parliament and other EU bodies have also expressed an interest in transcontinental projects that aim to create a land bridge for transporting goods from China to Europe via Russia. Here, however, there are some difficulties. "A regulatory framework has already been established for EU countries, but we live by different standards – not only the railways," Yakunin said. "The question is of how to find a common understanding and how to invest money in this land bridge."
According to forecasts by international experts, key financial and trade flows in the will increasingly be concentrated in the U.S.-Europe-Asia-Pacific Region triangle. For railways, this means the ability to increase shipments from this region to Europe is extremely important. But for this to happen, Russia's competitive position on the transport market must be strengthened by establishing the necessary technological, regulatory, legal, and tariff conditions. RZD hopes to reduce cargo transit time along this corridor through Russia by two days – that is, from 14 to 12 or maybe even 10 days, according to Yakunin's estimates.
Yakunin said RZD is also looking into international projects in other parts of the world. The company is considering participating in the electrification of the 28.5 mile Tabriz-Azarshahr line in Iran, and participation in the construction of the Rasht (Iran)-Astara line in Azerbaijan in cooperation with the Azerbaijani and Iranian railways. Yakunin said that EU sanctions against Iran would not affect the project. He explained, however, that he would not discuss "the correctness or incorrectness of the sanctions," since that's at "a political level."
"But as for the development of cooperation, I have always maintained that sanctions are unable to resolve accumulated political and inter-civilizational problems, which can only be resolved through cooperation," Yakunin said, giving his personal opinion.
First published in Rossiyskaya Gazeta.
All rights reserved by Rossiyskaya Gazeta.