Surviving the Russian market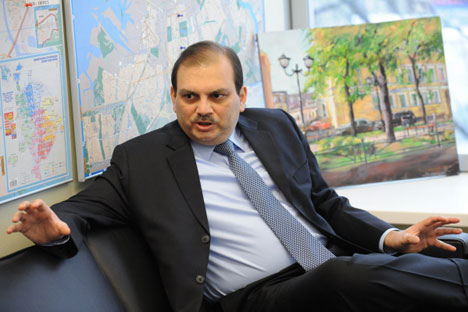 Amit Sah, head of retail banking for Citibank Russia. Source: RIA-Novosti
Amit Sah, Indian-born businessman, head of retail banking for Citibank Russia explains how the U.S. company gain its strong positions on the Russian "big-player's" market.
Most people would not envy Amit Sah's job as the head of retail banking for Citibank Russia. In the past few years he has seen several of his foreign counterparts forced out of the Russian market by overwhelming competition from state-controlled organizations such as Sberbank.
But the Indian-born businessman seems remarkably undeterred by the rocky waters of the Russian market as he surveys the grey expanse of southwest Moscow from the floor-to-ceiling windows of his spacious office near Kaluzhskaya metro.
He explains that Citibank, part of the U.S.-headquartered Citigroup, has secured itself a position on the Russian market by investing heavily in infrastructure, something which other global players, such as Barclays, HSBC and BNP Paribas, failed to do before they jumped ship in the course of the past few years.
"This is a market where scale is very important," Sah told The Moscow News. "That is something that other foreign players failed to see."
Evolving market
Since it entered the Russian market 20 years ago, Citibank has opened 50 offices and a network of 550 ATMs in 11 Russian cities. The group employs some 4,000 people in Russia, more than in any other country outside the United States.
In addition, Sah says that the group also "acquired HSBC's customer pool when they left the market last year."
The banker said the niches available to small banks are growing smaller as the sector in Russia matures into a market with just a handful of big players.
"The Russian banking system is trying to build its long-term structure now, and there is place for three, maximum four foreign banks in it," Sah said.
Getting technical
Now that it has firmly consolidated its position, Sah said that the bank's main priority is to lead the trend in improving Russian Internet- and mobile-banking services, already fairly advanced in the West.
"We have a lot of branches, but it's still not always convenient to get to them," Sah said. "We are trying to encourage our customers to use mobile and remote services, but it's largely a matter of education and convincing people that such services are safe to use."
In his role, Sah is responsible for all operations related to credit cards, lending, wealth management and service distribution networks. Having come to Moscow just two years ago, following a 23-year career working at Citibank offices across the globe, he is still getting to grips with the ins and outs of the Russian market.
"The Russian market is still very much in its evolutionary stages," Sah said.
"Economically, socially, politically things are moving quite fast here. It has far more affluence than countries like India and China."
All rights reserved by Rossiyskaya Gazeta.