UEFA: Financial Fair Play comes to Russia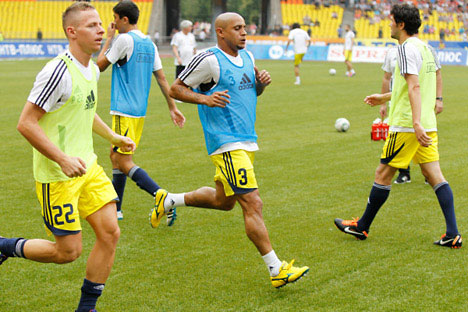 Balázs Dzsudzsák, Roberto Carlos and Yury Zhyrkov (L-R) of Anzhi Makhachkala training before their match against Spartak Moscow during Russia's football championship. Source: RIA Novosti / Alexey Kudenko
Football bosses are trying to impose a break-even requirement on clubs. How is Russia going to cope with Financial Fair Play?
Many Russian football clubs will have to give up purchasing expensive players according to new Union of European Football Association (UEFA) Financial Fair Play rules, which require that clubs demonstrate they do not spend more than they earn. The new regulations, approved by UEFA President Michel Platini, came into effect in January 2012, but will only be imposed in July 2014. During this reprieve period, European football clubs will be allowed to run up a maximum of $64 million in losses.
The UEFA claims that the new rules will not only limit spending by big clubs but also put an end to the practice of less prominent clubs buying famous players in an attempt to improve their standings in the league. "We have no plans to reduce all the clubs to the same level," Platini said. "We want mid-level clubs to stop spending millions that they do not earn."
The UEFA has found that more than half of the 650 teams in Europe report losses, with 20 percent of them spending 20 percent more than they make.
The new rules also ban the practice of independently wealthy owners investing their own money in acquiring players and writing off team debt. The wealthy owners, however, will still be able to bankroll construction of new arenas or football schools.
Teams that fail to meet the new standards will be excluded from European competitions.
Russia is likely to be extremely hard hit by the new measures. A UEFA special report shows that Russian clubs spent an average of 92 percent of their budgets on players' and coaches' salaries in 2009, making profits practically out of the question.
Nevertheless, CSKA club General Director Roman Babayev thinks that Russia can work within the new system. After a meeting with Andrea Traverso, the UEFA head of club licensing and financial fair play, Babayev said that if Russian clubs used more discretion in managing their spending, especially transfer costs and salaries, they would be able to "fit in this concept." CSKA tries to break even every season, Babayev said, adding that the club was generally successful in doing so.
Lokomotiv Moscow also feels comfortable with the financial fair play rules, at least according to club chairman Olga Smorodskaya. But several other clubs in the Russian Premier League report huge losses, mostly due to paying player transfer fees. Zenit St. Petersburg and Anzhi Makhachkala are particularly known to spend big money without much to show in return.
Anzhi bought Hungarian player Balazs Dzsudzsak for $17 million and sold him to Dinamo Moscow a few weeks later for $21 million. Meanwhile, major club draw Samuel Eto'o makes more than European merchandise sales leader Ajax Amsterdam generates annually from the sales of shirts and other promotional items. According to statistics from transfermarkt.com, four of the 12 most expensive transfers during the winter transfer window were in Russia.
Russian clubs also spend lavishly on coaches. Zenit St. Petersburg coach Luciano Spaletti makes $5.2 million a year, a price none of the clubs in his native Italy can match. Ruud Gullit, a coach and former well-known player for the Dutch national team, worked for only five months for Terek Grozny, but made enough in his settlement from the club to afford to stop coaching for a few years. Michael Laudrup, Nevio Scala, Artur Jorge and Juande Ramos have also been paid exorbitant salaries for short-term contracts in Russia, but the quality of Russian football remains the same.
One problem with the new rules is that it is not yet clear how UEFA will treat money from sponsorship deals. In Russia, the main sponsors hold stakes in clubs and some teams are financed from regional budgets, a different situation than in most European football clubs, and one that UEFA must take into account when determining the sponsorship rules.
Yevgeny Giner, CSKA president, said he supported the new regulations: "The UEFA initiative is necessary not only for our club but also to Russian football in general. Ninety per cent of clubs in Russia report losses, and we need to do something about it. A lot has changed for the better in the last few years but there is still a lot left to do."
Dinamo Moscow President Yury Isayev shares this opinion: "I like the UEFA idea. I guess we will eventually come to the point when all clubs have to disclose their budgets. This point is not far off. Clubs mostly disclose their expenditures, while keeping their revenues in secret, so it is sometimes not clear where these teams get their money."
The Financial Fair Play concept could result in more encouragement of local talent. Teams may see more benefit in nurturing Russian players rather than splashing on foreign stars. And this, in turn, could benefit Russia in its quest for the 2018 FIFA World Cup. In a recent report, Russian Football Union President Sergei Fursenko called the victory at the 2018 World Cup Russia's main objective, but as long as the key players of top Russian clubs remain foreigners, the country will have a difficult time finding enough domestic players to field a powerful national team.
All rights reserved by Rossiyskaya Gazeta.