Metran thinks locally and globally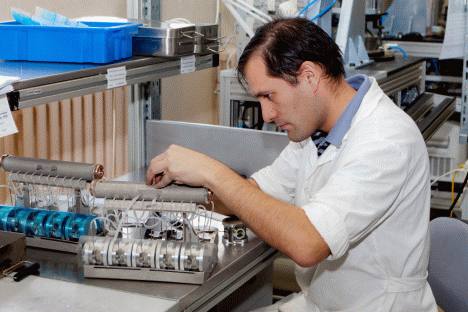 Metran scientists test new sensors at a facility outside Chelyabinsk. Source: Press Photo
Metran was a Urals success story long before it was acquired by U.S.-based Emerson. The company remains committed to its hometown even as it works on global problems.
"This sensor equipment for measuring reservoir depth was developed at our R&D labs here in Chelyabinsk, but it's going to be manufactured in the U.S., Europe and China," said Yevgeny Filippov, general director of Metran's engineering center. As he spoke, Filippov proudly gestured at a Metran-150 electronic pressure sensor on the floor of the sprawling 21,500-square-foot former Pribor defense factory, a few miles outside the Urals city of Chelyabinsk. This is the product for which Metran is famous throughout Russia. The sensors provide critical pressure readings in extreme conditions.
"It's irreplaceable to any company or person regularly operating a pipe, be it in the oil and gas industry, or even a nuclear plant," Filippov said. The Metran-150 — which ranges in price from $400 to $1,000 dollars per unit — was named one of Russia's 100 best products by the Moscow-based Academy of Quality Problems in 2010. In a nearby laboratory, Metran's scientists test new sensors under development for withstanding humidity, pressure and temperature. "Metran is nationally famous for being the first to implement the latest technologies in their field," said Natalia Orestova, the editor-in-chief of Automatization in Production, a Moscow-based magazine about the industry.


Metran was founded in 1992, when a group of local engineers decided to combine scientific knowledge with managerial skill and founded their company in a decaying factory. Metran became an official Russian dealer of products made by Emerson in 1996, and was acquired by the St. Louis-based company in 2004. In 2007, Emerson unveiled its Global Engineering Center on the grounds of Metran. The center currently provides product support services and R&D to Emerson's global network.


Despite its global reach, Metran remains committed to its hometown. Since 2005, Metran has provided one- and two-year paid internships to students at the South Urals Federal University (SUFU), also located in Chelyabinsk, and known for its strong science curriculum. "Our cooperation with SUFU has allowed Metran to tap the local talent pool and keep our best from moving to other parts of Russia or abroad," said Filippov. "The students know they have a stable, yet dynamic work environment waiting for them at Metran when they graduate."
All rights reserved by Rossiyskaya Gazeta.