Surjit Akre: An art with Russian touch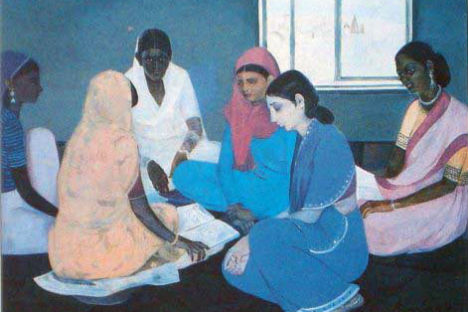 A conversation with eminent artist Surjit Akre, the only Indian to have pursued Post-Graduation from Russia, gives insights into her artistic journey, experiences as a student in St. Petersburg and pedagogy of the historic Repin Institute.
Surrounded by a massive collection of 61 oil on canvas works, all executed within the timeframe of an year, artist Surjit Akre seems like a character out of her paintings. A solemn soul enriched with knowledge acquired from a foreign land adorning her native vibrant textile. A unique fusion of Indian upbringing and Russian education scrupulously followed over three decades of painting.
Surjit Akre pursued Diploma in Commercial Arts from India and thereafter she moved to Russia with her parents in 1979. With much hard work and resolve she meritoriously achieved admission into the Repin Institute of Painting, Sculpture and Architecture in St. Petersburg. "The admission criteria were very strict and the institute used to accept only the best of the applicants. It was an uphill task for me all the way. I had to begin with learning the Russian language and then there was the constant challenge to meet the high academic standards for students" says Surjit about her struggle towards her goal. In 1986 she became the only artist to get a Post-Graduate Degree in Easel Painting from Russia.
Surjit had to not just cope with the academic pressure but also adjust to a culture and weather very different from her own. "I had never even imagined such a cold climate in my life. Thankfully I had good friends who always helped me. My classmates would make all kinds of efforts to ensure that I am keeping warm, be it checking the heating in my room or bringing me a cup of hot soup. Yet at -35 degrees C it used to be quite a task to carry drawings boards from hostel to college," recalls Surjit. Being the only Indian and that too a young girl from the flamboyant state of Punjab, she used to standout also due to her bright dressing sense - "My friends used to say that I am like a puzzle to them!" - An adorable one though for she always enjoyed the best of Russian hospitality. "I used to be swarmed with invitations from friends and their families. Usually we would spend weekends in a friend's dacha in a serene exurb of St. Petersburg." Surjit has her bag filled with stories of fun times with college mates, "On New Year's eves we used to walk around the streets of St. Petersburg. We would pack some food and wine and roam through the whole night occasionally seeking shelter from cold in telephone booths."
Friends made her feel at home while studies kept her busy. "I had to work extra hours to bring my life drawing up to the level of other students all of whom had been through preliminary art courses which prepared them for the painstaking figurative works," the artist shares insights into the academic focus at that time. The St. Petersburg Art Academy which has been named after one of its alumni and a master of the realist tradition, Ilya Y. Repin, has always been a guardian of the traditional values of Russian art. Repin regarded the academy's rigorous training as indispensable for mastering the technical skills. Surjit has imbibed the same principles and developed her own distinct expression.
Beginning with realism and painting her impressions of common folk from northern India she has wandered towards describing the inner anxieties and aspirations of women. Tender females occupy her canvases often laced with decorative elements. The reoccurring themes of love, beauty, and sentiments are treated with an uninhibited color palette yet the overall tonal quality is somewhat subdued. Speaking at the inauguration of her recent solo exhibition at Russian Centre for Science and Culture in New Delhi Surjit shares her vision – "this show depicts the love for Earth and this life. I try to depict all the beauty around us in my canvases".
It was the beauty of the historic building of Repin Institute, a masterpiece of neoclassical architecture on the Neva River, which instantly enthralled Surjit Akre. Years later her bond with Russian art scenario is as strong as her Indian roots. In Russia she has been awarded the Order of the Red Banner of Labour and the Pushkin Medal. While back home her works are part of prestigious collections such as the National Gallery of Modern Art and various Lalit Kala Academies. She is utilizing her dual affinity by promoting exchange between Indian and Russian artists. She is the Founder President of the Indo-Russian Roerich's Art Society and is working to create opportunities of collaboration between artists from her homeland India and her second home Russia.
All rights reserved by Rossiyskaya Gazeta.