A touch of Russia at India Art Fair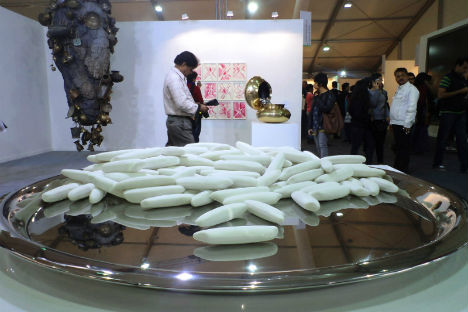 The recent India Art Fair in Delhi was a visual feast, displaying a dazzling array of classics and contemporary art from all over the world. Legends like Picasso and Dali competed with priceless works by Russian artists like Nicholas Roerich and modern software-based art by Alexander Lysov.
Photo: Olga Nikushkina
From European giants like Salvador Dali and Pablo Picasso to Russians like Marc Chagall and Nicolas Roerich and Indian greats like M.F. Hussain and F.N. Souza, the India Art Fair had them all under one huge marquee. Held at the NSIC Exhibition Grounds, Jan 25-29, in Delhi, the fourth edition of the India Art Fair –- one of one of the biggest art shows in South Asia -- displayed a dazzling array of paintings, sculptures and installations from more than 90 galleries from 20 countries. In a sign of its growing stature and Delhi's emergence as the global arts capital, artists cutting across geographies and genres and museum galleries from all over the world exhibited, with thousands of art lovers savouring this visual feast.
The Die Galerie, which displayed the paintings by Dali, Picasso and Chagall, was a huge draw. "Many western galleries are discovering the vast Indian market and, despite the difference in cultural traditions, they see a genuine interest here. We present modern European arts – Chagall, Picasso, Dali, and I am pleased to see that these works arouse interest here," Maren Kirchhoff, a spokesperson for the gallery, told RIR.
Showcasing their collections and familiarising themselves with the burgeoning Indian market were the White Cube gallery, UK, Italy's Galleria Continua, Switzerland's Hauser & Wirth, as well as the Arndt, Everard Read, Frida Fine Arts and Kalfayan Galleries. The auction houses also turned out in large numbers, with specialists from Sotheby's and Christie's targeting Indian connoisseurs and art buyers.
The quasi-mystical Himalayan landscapes by Nicholas Roerich, Russia's philosopher-painter, also inflamed enthusiasm of art lovers at the fair. Besides Chagall and Roerich, there was a fair sprinkling of Russia's artistic genius displayed at the art fair. The German Frida Fine Arts Gallery showcased works by Alexander Lysov, who represents the so-called "generative art" and creates his paintings using computer software, and works by the photographer Irina Mann, a professor at the Rodchenko Moscow School of Photography and Multimedia. The gallery also presented works by Belarusian artist Igor Tishin, who lives in Brussels and exhibits in many European countries. "Representatives of our gallery would like not only to showcase modern Russian art but also talk about it, give lectures, share the artists' concepts," said Tatyana Von Wardenburg, a spokesperson for gallery.
The India Art Fair also featured works by renowned British artist Damien Hirst, the most prominent member of the group known as the Young British Artists, who have dominated the international art scene since the 1990s. Indian participants included the Delhi Art Gallery, Vadehra Art Gallery (Delhi), Project 88, Chemould Prescott Road (Mumbai), Experimenter, Center of International Modern Art (Kolkata). The India Art Fair presented the works by prominent Indian artists Francis Newton Souza, Ranbir Singh Kaleka, S.H. Raza, Jangarh Singh Shyam, Tyeb Mehta, M.F. Husain, Anjolie Ela Menon, Anish Kapoor, Satish Gujaral, and K. Laxma Goud.
In an important trend, institutions like Grosvenor Gallery (Britain) and Hauser & Wirth, (Zurich and London) exhibited Indian art. The fair lived up to its growing reputation as 26 museums, including the Tate, Guggenheim, New Museum and the Singapore Art Museum, visited the fair to make acquisitions. The fair showcased works by 18 international artists, including Henry Moore, and over 90 galleries from over 20 countries exhibited over 1,000 art works. International art collectors like Sheikh Hassan Bin Mohamed Al Thani from Qatar also came to check out what was on offer.
Experimental works competed with classics for attention. "There is so much experimentation around us. Experimentation is a distinctive feature of modern art. We are all very much interested in what others have to show and in presenting our own works," says Richa Goel, representing the Shrine Empire gallery (New Delhi).
Neha Kirpal, director and founder of the India Art Fair, is not exaggerating whern she says the India Art Fair has evolved into an international event. "The exhibitors were pleased to see many young visitors, students of arts colleges and other schools. India is seeing an increase in the number of art collectors and modern art enthusiasts, which naturally attracts art galleries from around the world," she says.
All rights reserved by Rossiyskaya Gazeta.