High stakes: Putin versus others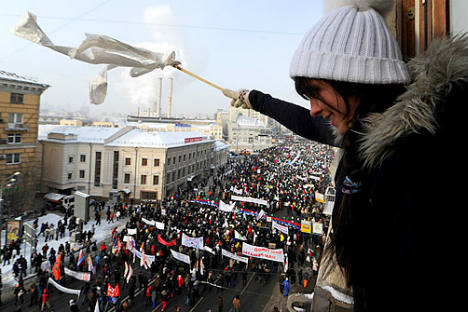 Source: Michael Mordasov/FocusPictures
With protesters and opposition pitching for change, all eyes are on whether the once invincible Putin will return to Kremlin.
The much-touted presidential elections in Russia are only 25 days away, but officially the political agitation campaign kicked off only on February 4. Russia is not the US, where the race begins a year before the polling day. Not so in Russia. The political heavyweights have long been established; there is no competition within parties. Indeed, each candidate has his own electorate with no migration between camps.


The alignment seems to be almost the same as in the last 15 years. The three main candidates are: Prime Minister Vladimir Putin, Gennady Zyuganov (Communist Party) and Vladimir Zhirinovsky (Liberal-Democratic Party). Sergei Mironov, whose Just Russia party received 13% of votes at the December parliamentary elections, and billionaire Mikhail Prokhorov are relative newcomers.


Yet the situation is totally different. A broad front has emerged in opposition to Putin personally and his policy. The change owes much to the mass rallies for fair elections, the Internet and Dmitry Medvedev's presidency. Protest sentiments spilled over from blogs into the streets first on December 10, then 24, and the most recent protest rallies swept Moscow on February 4, the campaign kick-off date. Now, politicians are vying with one another in taking up the protesters' slogans.


As a result, the number one candidate – Putin – has found himself in an unusual situation. He now faces "a common enemy." In 2004, his election for a second term was a mere formality. In 2008, the little-known Medvedev was not an "enemy" if only because he had had no time to become one. In 2012, Putin is "an enemy" for the street protesters and for establishment politicians.


Though recent polls put the Prime Minister's electoral rating at 52% (Kremlin-friendly VTsIOM pollster), 46% (Public Opinion Fund) or 37% (Levada Centre), the situation is not as static as in 2008; it is more dramatic. "It is not a simple campaign for Putin: he has a solid margin of strength, but time is not on his side," muses Igor Mintusov, CEO of Niccolo M. "For Putin, the trend is somewhat negative."


Yet, in reality, he alone is in the presidency sweepstakes. "For all the others, apart from Putin, victory would mean gaining more votes than the pollsters predict", says Modest Kolerov, a spindoctor. "The most they can dream of is to take it to the second round." Putin's opponents are seeking to diminish his legitimacy to strengthen their negotiating stand later. "This means a lot, especially in the light of the future gubernatorial elections, and a lot of money is at stake", he says.


Mikhail Loginov, a political analyst, however, feels that Putin's opponents might be counting on a miracle. In December, the United Russia party gained fewer votes than it had expected and, then mass rallies erupted. "Naturally, every politician is tempted to think, 'if miracles can happen, why can't it be me?'" he argues.


Be that as it may, there are two sides in the campaign: Putin and "all the others", who seek to disturb Putin's calm on Mount Olympus.


The image of Putin is in question, too. At one time, Putin endeared himself to Russians because he was a "real man": he flew an aircraft, displayed his muscles at fishing parties and put out fires.


That no longer makes any sense, says Kolerov. A new incarnation of Putin is now needed, a new man who has learned his lessons. "He must become a statesman who does something real to improve people's lives."
All rights reserved by Rossiyskaya Gazeta.