'It's a land of opportunity, but Russian team helps'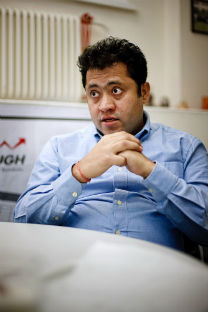 Ravi Sachdeva studied at St.Petersburg's University of Information Technologies, Mechanics and Optics, graduated with EMBA degree from Skolkovo Moscow School of Management, now is Country Director in Meridian Technologies. Photo: Ruslan Sukhushin
Having scored success in Russia, Ravi Sachdeva has a message for Indian IT pros: Just don't miss the bus!
"In Russia, unlike the US, it's vital to have close Russian partners," says Ravi Sachdeva, a leading Indian IT professional based in Moscow. "When you're on your own, you can't achieve quite as much as when you have a Russian team, it's the peculiarity of this market."
Trust Sachdeva to tell you a thing or two about Russia's IT industry, which bristles with opportunities for the talented and enterprising, but may out off those looking for an easy ride. "I think the IT sphere is more complicated than other industries that Indians in Russia traditionally set their foot in, such as metallurgy or pharmaceutical industry, because when you are in IT business it's not just about selling goods, it's all about people people-to-people communication."

This is especially true of Russia where "a top-down approach" reigns, and being a good networker is a great asset, says Sachdeva, Country Director in the IT training and solutions company Meridian Technologies (the Master franchisee of Aptech Worldwide in Russia). Starting the business from scratch, in the initial days, Indian embassy-Moscow supported him by introducing and endorsing Meridian to the state regional heads. Knowing governors of several Russian regions also helped him to implement his ideas in Russia.


Clearly, there are some problem areas for Indian IT cos. relating to doing IT business in Russia. These include challenges understanding legal system, layers of bureaucracy, work culture, weak IPR enforcements with wide spread infringements, language barrier, etc. To overcome most of these hurdles, Russia is now offering an unparallel opportunity having launched Skolkovo innovation centre- 'i-Gorod'. Skolkovo cluster has a full eco-system that is going to serve as a good platform both for established companies as well as the start-ups, a place where one can develop new ideas and get state funding.


In the IT training business, the language is the key barrier. "English is the language of IT, and in Russia not everybody speaks it. And because of the dynamism of the IT industry, constant updates, we have to spend a lot on translations every year," he says.

But Sachdeva is enthusiastic about the future of IT business in Russia. "Don't miss this bus! Russia is a land of opportunities in the IT sphere if one understands the way things work here. For example, even though there are a lot of creative specialists in this country, Russians often have trouble selling their products, and this is what Indians are very good at. You need to find and evaluate the right synergies."
Indeed, it's been a long journey for Sachdeva who even as a 17-year-old had an inkling that IT will be his future. A fter finishing high school in Delhi, Sachdeva entered St.Petersburg's renowned LITMO university. After graduating, he founded an IT start-up in India, which he decided to exit after six years and later moved with his family to Russia in Year 2004 (his second home) on his current assignment with Meridian group. One of Meridian group's projects was the launch of 'Fly', a brand of mobile handsets in Russia. Meridian group which has operations in Russia since year 1992, started with an experiment of distributing mobile phones in Russia in Year 2001 and today this business has grown with a $ 1 billion plus global revenue and a market share of 9% in Russia.

Sachdeva strikes one as someone who is constantly innovating. Despite his success, he went on to study at the Skolkovo, Moscow School of Management (2010-2011 class) and finished it with first position in the EMBA. He enjoys IT training business and working with the youth. He stresses that the courses offered by Aptech are the career courses that helps shape a well-rounded specialist. That's how Aptech dominates and differentiates with the domestic competition.
Ravi Sachdeva enjoys training young IT specialists. Sachdeva doesn't see much difference in professionalism between Russian and Indian university graduates in the branch. But he points out that the competitive selection process gives an edge to Indian institutions.
All rights reserved by Rossiyskaya Gazeta.