Russia's jewellery production: small giants of big business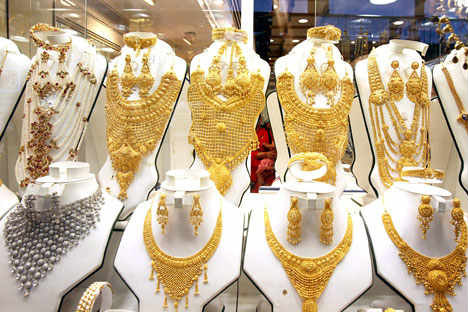 Russian prices for jewellery imported from India are lower than those of the local producers. Russian jewellery makers find cunning ways to avoid losses by cooperating with Asian partners.
Jewellery production is one of the most high-tech sectors. There used to be 25 jewellery enterprises in the Soviet Union, meeting the entire country's demand for items made of precious stones and metals.
The Assay Chamber estimates the current number of jewellery makers in Russia at more than 4,500, of which two thirds are individual jewellers. Some 150,000 people are engaged in jewellery production in Russia.
The biggest manufacturers include Almaz-holding, which incorporates former Soviet jewellery makers in Krasnoe Selo, Kostroma and Oryol; the Topaz plant in Kostroma and the Adamas Group, which operates a jewellery factory in Moscow. From 2001 to the beginning of the global downturn, jewellery production in Russia showed stable growth, efficiently combining long-established traditions and reliable sources of raw materials. The industry reported an average 30% annual growth of output.
Russia ranked fifth in the world in terms of gold production and twelfth in that of jewellery in 2011.
For the Russian jewellery sector, the past two years have been marked by a sharp increase in prices of precious stones and metals. Gold prices went up to $1,800 from $1,000 per ounce and diamond prices rose from $66 to $124 per carat. The price factor, alongside the overall reduction in the private incomes of Russians, has resulted in a 30% contraction in jewellery production, a reduction in the average weight of items sold to 1.4 grammes from 3.7 grammes and a shift of the consumer demand towards cheaper silver products.
Whereas the rise in prices for raw materials for jewellery production is a global trend, some other problems are specific to the Russian jewellery industry.
One factor impeding development of the domestic jewellery sector is the existing taxation system, says Farit Gumirov, General Director of the Almaz-holding jewellery company. Importers of raw materials (gold, precious stones) or high-tech equipment have to pay high customs duties, profit tax and VAT, and circulating capital is thus withdrawn from production even though tax is later refunded.
The high administrative burden – the need for producers to deliver finished items for marking to assay offices on a weekly basis while providing relevant security – increases transport costs.
These factors result in higher product costs, making jewellery uncompetitive compared to foreign made items.
Another problem is the inflow of jewellery imports, mostly from Southeast Asia (China, Thailand, India and Turkey) on to the Russian market. Specialists believe that imports account for about 35% of all jewellery sold in Russia (about 50 tonnes of gold), to say nothing of the grey market, accounting for 50% to 80%, according to various estimates.
Given the low manufacturing costs in those countries, even after the prices of imported jewellery are trebled by customs procedures, it is still much cheaper than Russian jewellery. Russia's accession to the WTO and reduction in customs duties on imported products could affect the competitiveness of the Russian jewellery industry even more.
To minimise their losses, Russian producers make contracts with Southeast Asian companies for export of Russian raw materials, which later return to Russia as finished jewellery.
Russian jewellery makers have proposed a set of measures to stabilise the situation and facilitate fair competition with imports, including cancellation of import duties on precious stones, production equipment and consumables and abolition of value-added tax on sale of precious metals in ingots.
In addition, in order to prevent illegal jewellery imports, the Association of Jewellers of Russia suggests introducing a special state hallmark for imported jewellery, without which their sale will be prohibited in Russia.
According to Vadim Yachmenikhin, Chairman of the Association of Jewellers of Russia, this state policy on the jewellery industry would help increase gold consumption in jewellery to 150 tonnes a year and retail sales up to 500 billion roubles.
It appears that, without an active state policy and thoroughly developed and implemented strategy for the jewellery industry, Russia might very soon surrender its market to foreign producers, although the jewellery sector could occupy a worthy place among other major contributors to the state budget.
Read the original story in Rosinvest.com
All rights reserved by Rossiyskaya Gazeta.