Valentine's Day boosts gift sales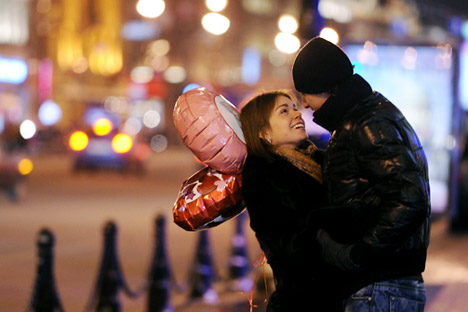 Russian celebrating Valentine's Day. Source: ITAR-TASS
Even though a fairly small number of Russians observe Valentine's Day, the holiday is still a boon for sellers of candy, flowers and small gifts.
Valentine's Day, the day of lovers, is marked in Western Europe and the United States on Feb. 14, and in the 1990s, Russians also began observing this day. But the observation of the holiday – both in Russia and around the world – has little to do with the martyrdom of St. Valentine.
All kinds of stories are told about St. Valentine today, said Kirill Gorbunov, a Catholic priest, in an interview with the Voice of Russia. Some say that Valentine was an ordinary young man very much loved by children; others state that he was a doctor or a priest. "The Catholic calendar has a lot of martyrs named Valentine. We do not know for sure in whose memory St. Valentine's Day is marked. Most likely, it is Valentine the bishop of Terni (part of Italy today) who lived in the late second or early third century. At that time, Christianity was outlawed. Valentine cured the daughter of a rich Roman family, and after that the family converted to Christianity. He was executed for that. Some people say that he secretly married those who had no right to marry; slaves, for example. However, I must say that there is no all lovers' day in the Catholic religion," Gorbunov said.
The tradition of observing St. Valentine's Day appeared in the U.S. in the 19th century and was meant to boost the sales of gifts, said Archpriest Maxim Kozlov of the Russian Orthodox Church of St. Tatiana at Moscow State University.
"Positioning the memory of Bishop Valentine as the patron of all lovers sprang up as a commercial cult, the aim of which was to establish a day convenient for sales. All Christian ideas are secondary here," said Kozlov. "Few people know that part of St. Valentine's relics was deposited in the Cathedral of Christ the Savior in Moscow several years ago, during the time of Patriarch Alexii II. We do not deny the saint's deeds, but his life does not give any grounds for romantic beliefs."
According to sociological data, the sale of flowers, souvenirs and perfume in Russia increases by almost 15 percent around Valentine's Day. The most popular gifts are cards, teddy bears and romantic dinners in restaurants. At the same time, statistics shows that the number of those who observe Valentine's Day grows smaller every year. Only 39 percent of Russians marked the day in 2012. One explanation is that the Russian Orthodox Church introduced its own day for lovers in 2008. It is the All-Russia Day of Family, Love and Fidelity, observed on July 8, the day of St. Peter and St. Fevronia of Murom, who are the patrons of family life.
First published in Voice of Russia.
All rights reserved by Rossiyskaya Gazeta.