Russian Business Week takes on Russia in the global economy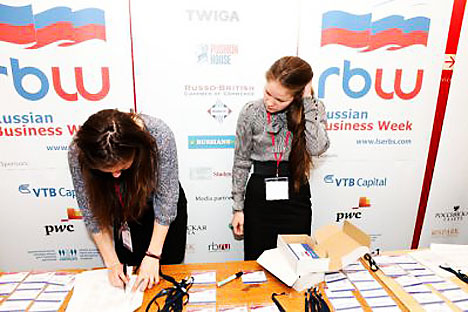 Russian Business Week in London School of Economics. Source: Press Photo
Investors and pundits gathered in London recently to discuss Russia's economic development and how it will or will not be affected by the changing political climate.
The conversation at Russian Business Week, an annual event held at the London School of Economics to discuss the economic climate in Russia, was more relevant than ever this year due to the increase in political activism following the December State Duma elections.
In his opening remarks to the gathering, Stephen Dalziel, executive director of the Russo-British Chamber of Commerce, noted that most UK-based investors still view Russia as the place it was in the mid-1990s, and that this perception is encouraged by the British media, although current events show without a doubt that the situation has changed. While relations will inevitably be affected by the past, Dalziel encouraged his countrymen to take a new look at Russia.
Sergei Sinkevich, vice president of Russia's leading MICEX-RTS stock exchange, countered Dalziel's comments, stating that attracting foreign investors is more a matter of infrastructure than PR. Sinkevich told participants that the stock exchange hopes to move into the ranks of the world's top five exchanges, but the RTS has yet to complete its program to bring business practices in line with international standards, and that this must be done before it can become an attractive venue for IPOs. Sinkevich also mentioned that the exchange still has problems attracting domestic investors or encouraging them to higher-yield assets. At the moment 84.4 percent of Russian pension funds assets are concentrated in low-yield bonds due to regulatory limitations, and less than 0.7 percent of local pension funds are invested in equities. The RTS is actively involved in development of new legislation to stimulate institutional investment into the equity market.
In his comments, made after Sinkevich's, EBRD chief economist Erik Berglof expanded on key obstacles to doing business with Russia and ways to overcome them. Along with tax rates and access to finance, one of the top obstacles according to EBRD research, is the lack of basic workforce skills among Russian employees. In other words, what universities teach is not always what the market demands. Yury Kotler, head of the Personnel Reserve Project of United Russia addressed some of these concerns later in the program when he spoke on the methods and practice of shaping the national talent pool.
Part of the conference was devoted to Russia in the global context, including a panel discussion on Russia's WTO entry. Many panelists preferred to talk about the role of the WTO globally and its place in the context of deglobalization rather than what Russia achieved by joining, but Neil Mackinnon, a global macro strategist with VTB Capital said: "Russia did more good to its image by hosting the World Cup 2018."
Mackinnon went on to say that Russia should no longer be referred to as an emerging economy, that it had outgrown this designation just as the global economy had moved beyond the BRIC. A new group of countries, identified as the Growth 8, made up of Brazil, China, India, Indonesia, Mexico, Russia, South Korea and Turkey will be driving the world GDP in the future.
Oleg Preksin, vice president of Association of Russian Banks, countered that an OPEC-style organization of foreign currency holders could take a bigger role in the global economy, ensuring more responsible macroeconomic policy and helping to avoid market oversensitivity.
All rights reserved by Rossiyskaya Gazeta.