Music finds a new home in Russia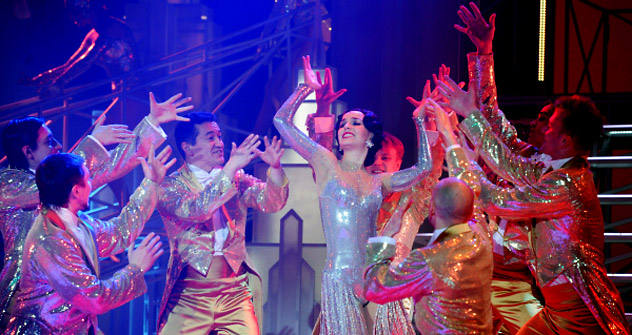 Actress Valeria Lanskaya (right) performing a scene from "We Can't Choose Our Times," a musical written by Mikhail Shvydkoi and Aleksei Kortnyev and directed by Dmitry Belov, at the Musical Theatre in Moscow. Source: RIA Novosti / Alexey Filipov
On Feb. 21, the musical "We Can't Choose Our Times" which tells the story of an American radio journalist, who discovers his Russian roots, will open at the Gorbunov Palace of Culture, known as the Gorbushka. It will feature Soviet and American music from the 1930s. It will be the first show in the theater since its redevelopment as a theater exclusively for musicals.
Alexandra Mashukova, a theater critic for Vedomosti Friday spoke with Mikhail Shvydkoi, a former Russian minister of culture and now the theater's artistic director and the president's special representative for culture about the new show and the theater itself.
Vedomosti Friday: Why did you choose this topic in particular?
Mikhail Shvydkoi: I cannot give you an answer to this question myself – I mean that quite sincerely. It all happened by accident. The thing is, I'm very fond of Soviet and American popular music of the 1920s and 1930s, and I suggested the same story to everyone. I said, look, guys, do a review, a concert, whatever you like, as long as it brings these songs together, because this is the music of great hopes – especially as life was tough in Russia and in America alike. What's more, this music was written by people who were culturally close to each other. One way or another, they'd all come from little Jewish towns in Ukraine, Belarus and Poland, and they'd all had formal musical education. Then they were scattered all over the world: some joined the Red Army, others went to America. I tried to get the idea of a show featuring this music off the ground in America, and I got 10 American performers together with 10 Russians. In summer 2010, the director Gary Chernyakhovsky, the producer Alexander Popov and I put on a workshop along these lines at the Mikhail Baryshnikov Arts Center in New York.
Mikhail Shvydkoi, a former Russian minister of culture. Source: ITAR-T
After the premiere in New York, I started to think about how we could stage it over here. At that moment I met the producer David Smelyansky, who told me that the Gorbunov Palace of Culture was looking for a new image. The rock musician Alexei Kortnev and I wrote the libretto. Now, however, I'm more occupied with the refurbishment and the commercial side of things as a whole.

V.F.: Have you already developed an aesthetic program for the musical theater?


M.S.: I don't follow any specific aesthetic system. We're starting with a Russian musical, and we have another Russian subject in reserve, and we've also bought a licence for the Broadway musical Rent, which can bring in the youth audience. We're discussing the idea of putting on a show featuring the songs of Viktor Tsoi, to mark his 50th birthday.


V.F.: How much have you spent on the refurbishment and the premiere?
M.S.: More than $3 million dollars has been invested in "We Can't Choose Our Times," and we've spent about the same amount on the refurbishment, perhaps even more. On top of that the Khrunichev Factory, which owns the Gorbushka, has also spent a considerable sum on the refurbishment.
V.F.: Is there no government money in this project?
M.S.: The thing is, I'm a civil servant, and in my position it would be unseemly to beg for government money. If I were not involved the project, the guys would be able to apply to the Moscow Department of Culture, especially as the Gorbushka is in an area where about 1.5 million live and there are very few cultural establishments. We want our theater to be a meeting place, and perhaps we'll open a school to train musical theater artists.


V.F.: Where are they being trained at the moment?

M.S.: The trailblazers in this genre are mainly graduates of the Yekaterinburg Theater Institute. The city has always had a strong musical comedy theater. The fact that we simply cannot compete with the Americans when it comes to training musical artists is another matter. To try and play on this field in competition with Broadway in any way would be really stupid.
V.F.: But nevertheless, you're still going to stage a licensed musical in your theatre.


M.S.: Yes, and there are quite strict conditions: for example, we can't depart from the stage treatment in a big way. So in our show we're looking for plot twists where it won't be important whether you're an American or a Russian.


It will also, of course, be a lavish spectacle, the kind of thing the public wants. At the same time I'm well aware that the strength of Russian theatre, and of the Russian musical in particular, is its ability to tell stories about people.


Another reason why I'm putting on a musical is one of the most important issues in life today – we're always feeling unhappy. That's not right. People need to understand that despite all the difficulties Russia is facing today, life is a blessing. That's a feeling that a musical can give.
First published in Vedomosti.ru.
All rights reserved by Rossiyskaya Gazeta.