Online beats print in ad sales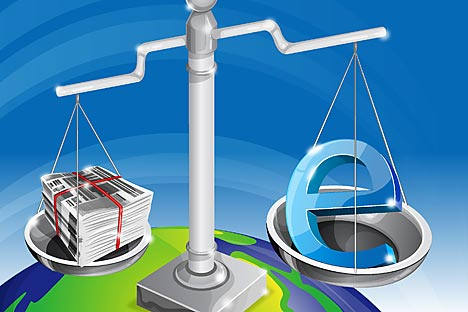 Ad spending in Russia in 2011 exceeded the levels seen before the global financial crisis. More importantly, online ad sales topped those of print ads for the first time.
In 2011, advertisers in Russia spent 263.4 billion rubles ($8.8 billion) for promotions, up 21 percent over 2010 and 4 percent over 2008, according to a new report by the Association of Communications Agencies of Russia. For the first time, online advertising outperformed print ads, making it Russia's second-largest media market after TV. Online advertising grew by 56 percent, while spending on print ads rose by only 6 percent.


Television remains the primary national media platform, taking in half of all ad spending. However, according to industry experts, the dominance of TV has actually advanced the growth of the online market. Andrei Chernyhov, CEO of AdWatch, said that TV ad capacities were sold out in the first months of 2011, prompting some key advertisers to increase online spending. This led to a 15 percent price increase at major online platforms and in some months, the demand for online placement exceeded the supply, he said. Lev Gleiser, head of Yandex media products development, said that concentration is increasing in the market and that major platforms increasingly control more ad spending on the Internet.


Ad sales also increased in volume due to continued growth in the number of Internet users in Russia and the amount of time these users spend online, said Alexei Katkov, commercial director of the Mail.ru Group. According to market research firm TNS, the monthly Russian online audience in December 2011 was 37.1 million users, up 5.4 percent over December 2010.
An increase in online advertising was particularly noticeable in certain sectors, the most important of which was major fast-moving consumer goods (FMCG) companies, according to Alexei Belyaev, head of ATSVI online research. Companies engaged in e-commerce and services have also become prominent advertisers, Chernyshov added. He and Katkov cited Tinkoff Credit Systems (TCS) as an example. Oleg Anisimov, TCS vice president for marketing, confirmed that the bank has significantly increased its online spending. "We have no offline offices, so we spend online more than any other media." To promote its services among the less active audience and build the TCS brand, the bank uses outdoor advertising, Anisimov said.


This year, the market for Internet advertising will show on average "slight growth," according to Katkov, but Chernyshov forecasts that online ad spending will grow by 35 to 40 percent. Ilya Perekopsky, deputy CEO of Russian social networking giant VKontakte expects an increase of 1.5 times, if no major crisis hits the market.
First published in Vedomosti.ru
All rights reserved by Rossiyskaya Gazeta.