Russia, India, China: fastest growth forecasts in trade with MENA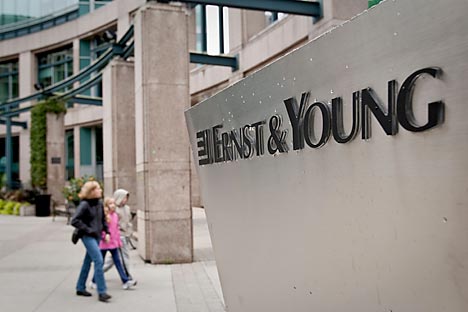 Source: Alamy/Legion-Media
Ernst & Young's forecast 'Trading places: The emergence of new patterns of international trade,' in conjunction with Oxford Economics, give prospects for the timeframe of the next eight years.
According to them, the Middle East and North Africa (MENA) trade flows will grow fastest with Russia, India and China over the period 2012 to 2020.
MENA trade with Russia will grow at 14.4% p.a., with India at 13.5% and with China at 12.5% through to 2020. Thus it outruns the global average of trade growth that is set at 9.4% per annum.
On the other hand, annual MENA trade growth with US (8.4%), EU (7.7%) and Japan (7.3%) will fall behind the global trade growth average of 9.4% p.a.
Jay Nibbe, EMEIA Markets Leader, Ernst & Young, comments: "While advanced economies muddle through the financial crisis, the rapid-growth markets are going from strength to strength and are an increasingly significant part of the global economy."
Balance of trade heads eastbound
The report informs that global trade which has long been dominated by advanced economies is now shifting permanently eastwards. Asia-Pacific will experience the fastest growth in global trade through to 2020 and intra-regional trade there willlead to a renewed concentration of international demand.
Global trade across Asia to 2020
Ernst & Young estimates that the continuous tendencies for global outsourcing of production, as well as the growth of regional supply chains, will diminish the share of the advanced economies in global trade from a little over 60% in 2010 to around 55% by 2020.
Asia will continue to be the most dynamic region in terms of trade, with the fastest growth of exports in goods occurring within the region itself. India and China will be on top of the ongoing surge of the emerging markets, and together these economies will account for almost one-fifth of global trade flows by 2020.
India and China also represent the fastest growing source of demand for exports from other countries. The forecast shows that two of the most rapidly growing trade routes will be US exports to China and India, which Ernst & Young see growing at an average annual rate of almost 16%.
Bassam Hage, MENA Markets Leader, Ernst & Young, says: "Trade will also be increasingly focused around Asia, the Middle East and Africa, suggesting that the key geographical location for companies will change. Indeed, Europe's exports to Africa and the Middle East are forecast to be around 50% larger than its exports to the US."
Europe's share of global exports will fall from 38% in 2010 to 34% by 2020. However, the forecast shows that Europe is the developed region that will gain the most in terms of export values from the increase in demand in China, with exports to China rising by US$370b over the next ten years. China's predicted exports to Europe at over US$1trillion will be almost twice as large as US exports to Europe.
Specifics of regional trade
New markets for exports are also emerging within MENA and Sub-Saharan Africa as these economies grow in size. Total exports to these regions are expected to grow faster than exports to the US, Europe, Japan and the rest of the Americas. Richer economies in the region, especially the oil-exporting economies of the Middle East, will also represent increasingly important sources of final demand for manufactured products.
"Total exports to Africa and the Middle East are forecast to grow more rapidly than exports to the US, Europe, Japan and the rest of the Americas. In the sub-Saharan Africa and MENA regions, our forecasts indicate that the fastest-growing sectors will be metals, chemicals, other manufactures and machinery and transport equipment, with broadly similar average annual rates of expansion of around 11%," adds Bassam.
All rights reserved by Rossiyskaya Gazeta.