Putin takes on international politics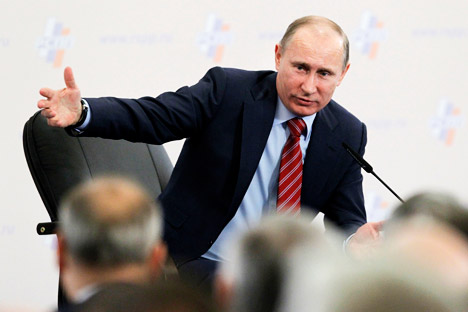 Putin has a desire to appeal to voters who believe that Russia should play a leading role on the global scene and stand up for its interests. Source: AP
In his last article describing his positions before the presidential vote, Prime Minister Vladimir Putin lays out his vision for Russia's foreign policy.
In his latest article, published in the newspaper Moskovskie Novosti, Russian presidential candidate Prime Minister Vladimir Putin addresses foreign policy. His position is that Russia will not change its stance on current hot international issues and furthermore, that it does not want to follow the rules imposed by the West. At the same time, Putin emphasized that it is essential for Russia to remain open and continue collaborating with the U.S. and Europe.
Both Russian and American experts connect the article's tough rhetoric with Putin's desire to appeal to voters who believe that Russia should play a leading role on the global scene and stand up for its interests.
"Putin is a great student of traditional Russian political culture," said Gregory Feifer, a former correspondent for Radio Liberty, writer and a specialist in U.S.-Russian relations. "Accusing western countries of exacerbating violence and extremism in the Middle East and meddling in Russian electoral politics has been part of his tactic of playing on the perceived Russian fear of anarchy and desire for a strong leader. Although they proved highly successful in the past, such actions are now making him appear ridiculous in the eyes of an increasing number of Russians who are posing the biggest challenge to his dozen-year rule by showing they aren't afraid to protest."
Tatyana Parkhalina, an expert from the Moscow-based Center for European Security echoed this view.
"Putin's recent article is reminiscent of his speech in Munich [at the annual security conference held there in 2007]," she said. "He tries to shift the responsibility to NATO and the U.S., which indicates that Russia doesn't want and is not going to observe the rules imposed by the West."
Yet the fact that it is the last article in Putin's presidential campaign should be taken into account, and his ideas may be perceived with sympathy by the Russian electorate, Parkhalina added. Nevertheless, she continued, the article doesn't mean that Putin will follow such a policy after being elected, because Russia is interested in a strategic partnership with the West to resolve pending global problems ranging from nuclear proliferation to problems in the Middle East.
When Russia lashed out at the West it always found itself in a vulnerable position, Parkhalina said.
For example, when Russia didn't support the UN resolution on Syria and took a firm stance against military intervention in the country, it was under severe criticism from the West, which complicated the country's relations with the U.S. in particular.
Western experts believe that if Russia sticks to its current policy it might affect the relations with NATO and the U.S., while their Russian counterparts argue that the West is also interested in the strategic collaboration with Russia.
"It's impossible to predict how the struggle for Russia's future will play out after his [Putin's] all-but-certain election this weekend, but his support for Syria by helping block the latest Security Council resolution and supplying Assad with arms while hundreds of innocent civilians die each week has already done much to damage Moscow's international reputation and harm relations with Washington," Feifer said.
Despite their criticism of the Russian position on Syria, Parkhalina argues that Europe and the U.S. will continue to pursue a compromise. "The current political situation is very complicated and it is in the interest of both Russia and the West to collaborate in different fields [ranging from the strategic partnership in Afghanistan to the Iranian nuclear program]," she said. "We also should keep in mind that Europe needs Russian gas and oil, which prevent it from fueling the tensions."
All rights reserved by Rossiyskaya Gazeta.