Revealing an attempt on Putin's life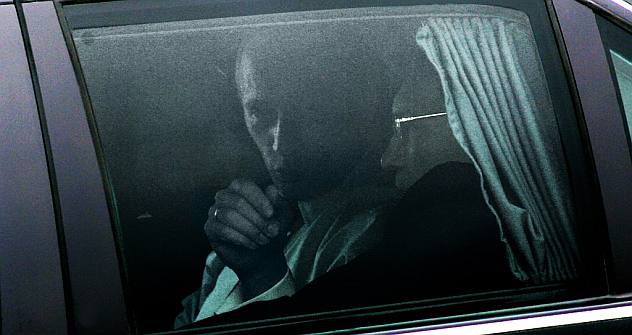 The secret services of Russia and Ukraine reveal an assassination attempt on Putin's life. Source: AFP
A plot to assassinate Russian presidential candidate and Prime Minister Vladimir Putin was uncovered in Ukraine.
According to information now becoming public, the secret services of Russia and Ukraine uncovered a plot against the life of Russian presidential candidate and Prime Minister Vladimir Putin just before the presidential election.
A Chechen, Adam Osmayev and Ilya Pyanzin, a citizen of Kazakhstan, were arrested in the Ukrainian city of Odessa. The men confessed to the plot and told officers about a hiding place in Moscow where the components of an explosive device were kept. The explosives, which were anti-tank mines, had already been brought to Moscow and hidden near Kutuzovsky Prospect, the main artery for political figures heading to the Kremlin.
Putin about an assassination attempt for his life:
"People in my position should accept it. These things should never affect [my job], they have never hampered my job and won't hamper it. "
After being arrested by the Ukrainian anti-terror unit, Osmayev, who is on the international most-wanted list, stated that preparation for the attack was in its final stages and the plan was to blow up Putin's motorcade. Osmayev claimed he had been instructed to carry out the plot by Chechen extremist leader Doku Umarov. Osmayev first appeared on the most-wanted list in 2007, when he was arrested for the preparation of an assassination attempt on Chechen President Ramzan Kadyrov in Moscow. However, the authorities were unable to prove Osmayev guilty in the plot and he was released, at which point he fled to the UK.
Last year, however, Osmayev moved to Ukraine using forged documents. Another Chechen, Ruslan Madayev, who had been living in the United Arab Emirates, and Ilya Pyanzin, a native of Kazakhstan, joined Osmayaev there. They rented an apartment and, according to Pyanzin' testimony, began learning how to make and use explosive devices.
In the beginning of January, a bomb exploded in Madayev's hands and he died. Pyanzin was burned.
At first, the firemen who arrived on the scene believed the apartment had been damaged in a gas explosion. However, after a mor thorough examination, they found traces of explosives. After recovering consciousness, Pyanzin told officials from the Security Service of Ukraine (SBU) saying that they had been preparing for an attempt on the life of the Russian prime minister. According to Pyansin, the attempt was to take place just after the presidential elections. It would involve a suicide bomber, and Madayev was preparing for this role.
Adam Osmayev was arrested by the SBU workforce on Feb. 4, when his father came from Russia to Odessa to meet him. Osmayev was located by tracing the calls made from his father's phone.
A laptop with Putin's motorcade routes was found among Osmayev's possessions and the hiding place with explosive was uncovered in Moscow. They had been hidden there since 2007, when the plot to assassinate Ramzan Kadyrov was being planned.
Experts believe that it is no coincidence that this plot was revealed a week before Russia's presidential election, although it had been uncovered weeks earlier. Yevgeny Minchenko, director of the International Institute for Political Expertise notes that it is significant that Vladimir Putin's article focusing on foreign policy and external threats was published the same day as the assassination attempt was announced.
Mikhail Delyagin, director of the Institute of Globalization Problems said: "It is not quite clear why the Chechen terrorists came to Ukraine," but that the story gives the following message: "If bad gunmen make an attempt on Putin's life, it means that Putin is good."
Dmitry Travin, head of the Center for Modernization Studies at the European University in St. Petersburg, said: "Putin's entire election campaign is based on the endeavor to create a feeling of external threat in people. Among such threats presented to the Russians are the USA, international terrorists and internal enemies."
This story was compiled from information published at Dni.ru, Kommersant, RBC, and Delovoi Petersburg.
All rights reserved by Rossiyskaya Gazeta.