How serious is Putin 2.0?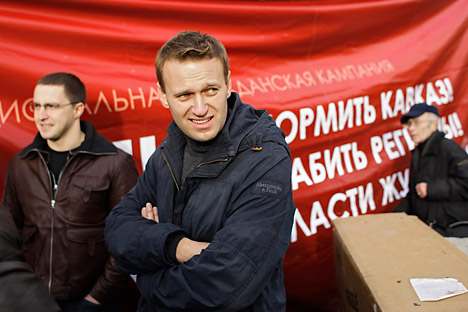 Alexei Navalny, Russia's vocal anti-corruption campaigner. Source: AP
The fight against corruption is at the top of Russia's political agenda and one of the key points of Vladimir Putin's electoral platform. Unfortunately, as he himself has admitted, that fight has not yet yielded any tangible results. Can corruption in Russia be tackled and if so, how? We often hear that even if there is a genuine desire at the top to fight corruption, that fight is doomed to failure.
But it isn't. Technological advances in recent years have provided anti-corruption fighters with an entirely new set of tools. The spread of the internet and the development of social networking make it possible to use modern crowd-sourcing technologies. In other words, even if there are not enough investigators and police officers, citizens themselves can gather, disseminate and discuss basic information. One new anti-corruption project called BondRaspil shows that a specific type of corruption can be conquered very quickly. The key to success is transparency and the sense that punishment is unavoidable.
In October, some anonymous traders opened a website called bondraspil.ru, which monitors non-market deals in the Russian bond market. The BondRaspil site posts all the suspect transactions, indicating by how many percentage points the price of the deal differs from the market price, that is, how much money the parties to these deals have pocketed. The authors of the site are prepared to admit their mistakes and welcome comments from bond market traders.
How are such "split" deals in the liquid bonds market structured? A bond is a commodity for which prices are quoted daily (BondRaspil focuses on government bonds and first- and second-tier bonds). Therefore, a non-market deal can immediately be spotted on the bond market. BondRaspil has calculated that since 19 October, partners in such deals have made a substantial profit: deviations from the market prices amounted to 309 million rubles.
How dangerous are these deals? The traders who make them not only steal money from their employers, but also undermine confidence in market prices and the financial market as a whole. Liquidity is reduced and the market becomes less stable. If the price of the deal affects the value of the bonds as an asset, the consequences can be even more serious because market prices are important benchmarks for other transactions. For example, non-market deals can raise or lower the market price of the collateral, defer a margin call or help a bankrupt bank "meet" its capital requirements.
Luckily, the work of BondRaspil activists quickly caught the eye of the media, the Federal Financial Markets Service (FSFR) and the stock exchange. The FSFR informed them in an official letter that their information is being considered. Unsurprisingly, the number of dodgy deals dropped sharply, according to the activists. They amounted to 209 million rubles in December and to just 10 million rubles between 12 January and 10 February. In addition, while in November and December deal prices differed from market prices by hundreds of basic points (for a number of deals by 300-400 points and for one, 600 points), in January the maximum deviation was 150 points and in February it was 40 points. The average deviation was 156 points in December, 58 in January and 31 in February.
Of course, BondRaspil is a somewhat unusual example of the fight against corruption. The community of bond traders is close-knit, with everybody knowing everybody else. The regulator and the exchange know all the traders. That is why this type of deal was conquered so quickly. But on the other hand, it is an important precedent. First, it turns out that it is possible to fight corruption with transparency. Second, market agents must know that punishment is inevitable. In this case, the potential culprits had no doubt that the FSFR and MICEX are interested in curbing non-market deals. The fact that BondRaspil's information became widely known sends a powerful signal to would-be violators.
Confidence that punishment is inevitable is precisely what is lacking in the fight against corruption in other areas. Although society has amassed mountains of information about corrupt acts (published by enthusiasts on the internet), the authorities have not been in a hurry to respond. Indeed, critics mistrust Vladimir Putin's words about fighting "systemic corruption" because society is not convinced he is truly determined to see the reported facts investigated.
However, in the next few weeks we will see whether the "new Putin" is ready to take on corruption. Declarations by the heads of state companies on their property and shares in companies (including offshore ones) must be submitted shortly to four agencies. Obviously, these declarations will be leaked to the press and will be widely discussed on the internet. If they turn out to be implausible, they will of course trigger a wave of further exposures. It is likely that Russian society will learn about some serious conflicts of interest at the very top. The reaction to these revelations will be a measure of how serious "Putin 2.0" is.
The authors are respectively the rector of the Russian Economic School and professor at Yale University and the Russian Economic School
All rights reserved by Rossiyskaya Gazeta.