Medvedev orders Khodorkovsky case probe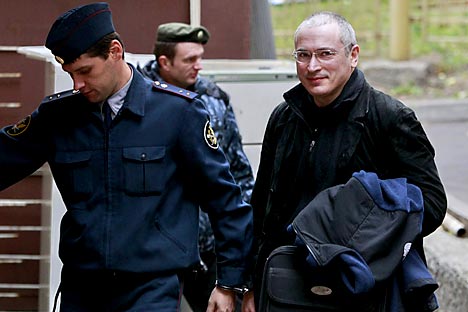 Source: Andrey Stenin / RIA Novosti
Russian President Dmitry Medvedev ordered the Prosecutor General's Office to probe the legality of the verdicts handed down to 32 prisoners, including former Yukos head Mikhail Khodorkovsky and his business partner Platon Lebedev, the Kremlin said on Monday.
The president also ordered a probe into the verdict in the case of the former Yukos security head, Alexey Pichugin, who received a life sentence in 2007 for organizing murders and assassination attempts against Yukos rivals, the Kremlin press service said.
In his own words
Dmitry Medvedev:
"Regarding the Khodorkovsky's case [his] fate is poor. I feel sympathy for him just because he's sitting in prison. However, I've expressed my position several times and there can't be any other position for a president. While Mikhail Khodorkovsky's sentence is in power, he is considered guilty in his crime. This is the only possible position for a president". (25 January)
Khodorkovsky has been in jail on charges of fraud and tax evasion since his arrest on a Siberian airport runway in 2003, which his supporters claim was punishment for funding the liberal opposition at a time when Vladimir Putin was beginning to create a "vertical power structure." Khodorkovsky's lawyer Yury Schmidt said he does not know what to expect from Medvedev's order.
"It could be a purely formal decision, an insignificant one, or a signal that they have decided to close the Khodorkovsky and Lebedev cases…to stop it causing troubles for the authorities," Schmidt said. Schmidt also said it could be positive for his client if Prime Minister Vladimir Putin signaled that a probe could be started. "If there is no [Putin's] approval, Medvedev's decision will not lead to anything positive."
Platonov's lawyer Konstantin Rivkin hailed Medvedev's decision, saying the president's patience over the Yukos case seemed to be near breaking point.
Medvedev's move comes a month after two opposition figures, journalist Olga Romanova and State Duma member Gennady Gudkov, submitted a list of 39 inmates whom they describe as "political prisoners," to the presidential administration. Among the names on Romanova's list are Khodorkovsky and Lebedev, who were jailed on fraud charges, Other Russia activist Taisiya Osipova, who was convicted on drugs charges, and Interior Ministry officer Sergei Arakcheyev, sentenced for killing three civilians during the military conflict in Chechnya in 2003.
Originally published at RIA Novosti.
All rights reserved by Rossiyskaya Gazeta.