The Women in politics – make your choice
Russia Beyond the Headlines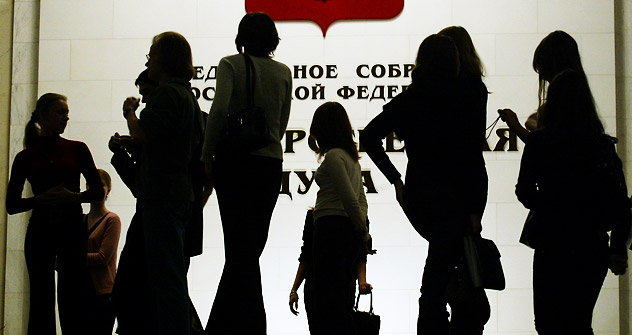 In honor of International Women's Day – one of Russia's biggest holidays – Russia Beyond the Headlines invites you to choose the most beautiful women in Russian politics.
Maria Kozhevnikova, 27
Actress
State Duma deputy, United Russia party
For five seasons (three years), she appeared in the Russian soap opera "Univer" as Alla, a blonde who reads Forbes to find a rich and successful man
Alyona Popova, 28
One-time Moscow City Duma candidate
Guiding spirit and organizer of the first conference on best practices in electronic government, Gov2Russia
Alina Kabayeva, 28
State Duma deputy, United Russia party
Rhythmic gymnast
Gold medalist, 2004 Athens Olympic Games
Bronze medalist, 2000 Sydney Olympic Games
Two-time world champion (1999 and 2003); Five-time European champion (1998, 1999, 2000, 2002, 2004); Six-time Russian champion (1999-2001, 2004, 2006-2007).
Maria Maksakova-Igenbergs, 34
State Duma deputy, United Russia party
Opera singer (mezzo-soprano). Mariinsky Theater soloist
Masha Malinovskaya, 30
Model and TV presenter
State Duma deputy, Liberal-Democratic Party of Russia (2005-2008)
In 2008, the Belgorod Regional Branch of the LDPR expelled her from the party but Malinovskaya responded by staging an event under the slogan, "I am no longer a member but I hold the mandate."
Yevgeniya Chirikova, 35
Opposition leader
Founder, Movement to Defend Khimki Forest
Kseniya Sobchak, 31
Celebrity, TV presenter
Daughter of former St. Petersburg Mayor Anatoly Sobchak
Tina Kandelaki, 36
Russian journalist, young politician, TV presenter and producer
Co-owner of the Apostol Media Group company
Ekaterina Semyonova, 40
State Duma deputy, United Russia party
General Director of the Oblkulttorg Trade and Production Company
Svetlana Zhurova, 41
State Duma deputy, United Russia party
Soviet and Russian speed skater, Merited Master of Sport
Anastasia Volochkova, 38
Former member of the United Russia party
Ballerina, actress and public personality
Merited Artist of Russia
Tatyana Voronova, 37
State Duma deputy, United Russia party
Russian state and political figure
All rights reserved by Rossiyskaya Gazeta.