Putin puts forward a realistic foreign policy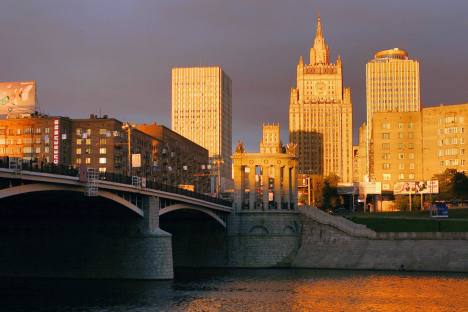 Russia's Foreign Affairs Ministry. Source: ITAR-TASS
A shift eastward and policies based on economic cooperation and pragmatism will be the focus of Russia's relationship with its international partners during Vladimir Putin's third term.
At a meeting with journalists shortly after his victory in the March 4 presidential election, Prime Minister Vladimir Putin indicated that the focus of Russia's foreign policy will continue to shift east, reiterating many of the ideas he had first put forth in his opinion piece on foreign policy, published in late Feburary in Russian daily Moskovskie Novosti.
In this text, the president-elect characterized Russia first of all as a country with global ambitions, actively engaged in resolving all international problems with a view to ensuring international security and asserting new principles of the world order, together with its BRICS partners.
"This is a realistic foreign policy, and realism is also the key principle underlying the articles on development of military capability or, essentially, military and political development," said Alexei Zudin, deputy director of the Center for the Political Environment, as quoted by RBC.
Putin perceives Russia as being the target of constant and mostly unfriendly pressure – from military challenges such as NATO enlargement and anti-ballistic missile systems to the imposition of social changes through media campaigns and other "soft power" elements, said Fyodor Lukyanov, editor-in-chief of the magazine Russia in Global Affairs. "Overall, Putin sees this world as an extremely risky and hostile environment. Success is only possible if based on use of power and this must be real 'hard' power. Russia is reckoned with and respected only when it is strong and stands firmly on its feet," Lukyanov said.
In this context, Putin is disappointed with the West, not so much because of its disrespect for Russia or its unwillingness to treat it as an equal partner, as because the policies pursued by the West in situations ranging from the Arab Spring to the European credit crisis to Iran's nuclear program are fruitless, ineffective and short-sighted.
"Putin's key message is that Russia is an independent power center guided by its own national interests; Russia is one of the few countries capable of pursuing sovereign foreign and domestic policies," said Vyacheslav Nikonov, President of the Polity Foundation.
Because of this desire to appear independent and also because of the disappointment with the West, Putin is making an effort to seek closer ties with the Asian-Pacific Region, especially in economic cooperation. Putin's goal seems to be to connect economic cooperation with foreign policy objectives, and in the Far East, a crucial component of this strategy is the pressing need to develop Siberia and the Far East. Cooperation with China will be necessary to acheiving any economic or foreign policy goals in this region. While there are some problems in the Russia-China relationship that must be solved, including disproportionate migration flows, Putin said that he hopes that the two countries can now work as true partners in a relationship based on pragmatism and respect for mutual interests.
India is another key strategic partner in the Asian-Pacific Region, according to Putin. Russia has traditionally enjoyed friendly relations with India, "which the leaders of our two countries have classified as a privileged strategic partnership."
Putin pointed out that the growing economic influence of the BRICS nations gives them an increasingly important role in the current debate about reshaping the global system for managing economics and finance. "We must take advantage of this opportunity to coordinate better the work of the G20 and other multilateral structures, above all the G8 and, of course, the UN," Putin wrote, noting that Russia will take the chairmanship of the G20 in 2013.
"This article is a demand to respect Russia," said Alexei Mukhin, general director of the Center for Political Information. "This article is all about respect. Vladimir Putin does not proclaim any new strategy for the country's foreign policy but maintains that Russia has chosen the right path and will gain respect as long as it keeps to it. Putin naturally underlines his own role in the fact that Russia is treading this path. The main thing Putin makes clear in this article is that he is a serious man, who never changes his view, whatever the political environment."
Alexander Markarov, Director of the Armenian branch of the CIS Institute, said that it is important to realize that Putin's style is harsher, more forceful and also more cynical than that of outgoing president Dmitry Medvedev. But, that Russia's international partners should not expect much to change with the arrival of the new president since, although the styles are different, the essence of the policy remains the same. "Essentially, the objectives of the two leaders are the same – internal modernization, promotion of national interests and use of soft power, where applicable; however, the methods and instruments for attaining these objectives may be different," Markarov said.
All rights reserved by Rossiyskaya Gazeta.