Russian tour operators about a show in India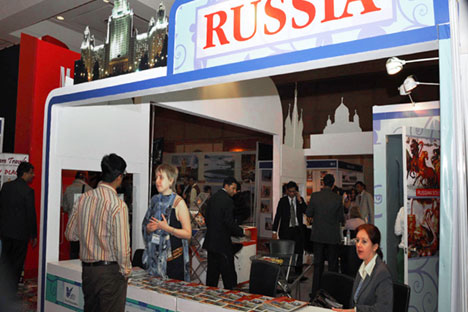 The Russian Federal Agency for Tourism, together with the Russian Travel Association World Without Borders, represented Russia in Mumbai as an attractive tourist destination. The Russian stand at the Outbound Travel Mart (OTM) exhibition on 17-19 February was aimed at making Russia more popular with Indian tourists
"The potential for a tourist exchange between Russia and India is far from exhausted, Alexei Kuchinov, head of the Russian delegation, told RIR. Currently, India is more attractive for Russian tourists than vice versa. Indians mostly go to Moscow and St Petersburg and one of our goals today is to make potential tourists aware of the attractions offered by other parts of Russia.
"So far, most tour operators work as private businesses. We hope the situation will improve after Russia's Federal Agency for Tourism and India's Tourism Ministry sign a framework cooperation agreement."
"To attract tourists, we need advertising, image projects – we need to destroy the prevailing stereotypes among Indian people of Russia as a dangerous, cold country… We also need to hold more joint art exhibitions, symposia and sports events. All this would stimulate development of the infrastructure, including rail links. Indeed, the high speed train services touted by the Russian Railways between Russia's major cities, will also help attract tourists", Kuchinov said.
The presentation was attended by representatives of Russia's General Consulate in Mumbai, Vladimir Dementyev, Director of the Russian Centre for Science and Culture in Mumbai, and Russian tourist companies.
Speaking at the event, Alexei Mzareulov, Russian Consul in Mumbai, expressed concern that far fewer Indians are coming to Russia than Russians visiting India. "Goa alone has about 90,000 Russian tourists a year. And we had just 50,000 Indian visitors last year, of whom only 5,000 were tourists. It's like a one-way street", he stressed. "Our consulate hopes that the Outbound Travel Mart (OTM) will boost the flow of Indian tourists to Russia. At the government level, our bilateral economic links are developing well, especially in such areas as weapons sales, civilian nuclear programmes and diamond mining. At the same time, we are lagging behind in terms of private business, links between medium-sized and small companies. If we don't catch up now, we will not be able to bring our sales to $20 billion by 2015 – the goal set by the government. Even that is not much. India is a huge country and our privileged strategic partner. There is no other country in the world with which Russia has such a high level of relations. For example, Turkey is much smaller than India but it is ahead in terms of trade with Russia – over $20 billion."
"The way to solve this problem is to boost ties between the regions, including cooperation between twin cities. Another inspiring example of interregional cooperation is the partnership between the Astrakhan Region and the State of Gujarat, which have recently extended their partnership cooperation by another five years. In April last year, the Krasnoyarsk Region Administration delivered a letter offering a partnership agreement to the state of Maharashtra. Such agreements are vital for developing tourism. We are very happy with this exhibition, where Russia is represented very decently."
The heads of tourist companies bringing Indian tourists to Russia are unanimous that one of the main problems impeding an increase in tourism from India to Russia is the shortage of Indian restaurants in Russia. It turns out that, unlike tourists from many other countries, including Japan and most European nations, Indians are very conservative about what they eat and are often unwilling to try something new. In addition, they have many religious restrictions in this respect. However, these are interrelated problems, experts say: the more Indian tourists come to Russia, the more Indian restaurants will open.
Russian tour operators are trying to diversify and devise new forms of tourism for Indians. Even traditional destinations such as Moscow, St Petersburg, the Golden Ring and cruises can be made more interesting and varied, believes Nina Zharova, Director for Inbound Tourism at Intourist. For instance, tour operators may offer visits to moose farms and people-to-people programmes. It could be a lunch in a Russian village house or a folk show in a village yard… Visits to the traditional craft workshops producing the famous Palekh miniatures can be combined with traditional Russian tea parties. And in Sergiyev Posad, tourists could be offered an opportunity to paint a matryoshka, Russian nesting doll, for themselves…
Another promising project is the Trans-Siberian Railway, which is becoming increasingly popular with Indians – a kind of railway cruise from Moscow to Beijing, across Siberia and Mongolia. This is a comfortable train with dining cars, a lounge car, bar, Russian language, singing and dancing classes, and excursions to the most interesting cities on the way. The programme includes a visit to Baikal Lake and a stay in nomad tents in Mongolia.
English speaking tourists from different countries are also offered a so-called Guaranteed Departure Group programme. Once a group gathers, it is provided with a guide and a translator. This option could make travelling to Russia cheaper – at group prices.
The Russian Federal Agency for Tourism and the World Without Borders hope that the Outbound Travel Mart will make Russia more attractive in the eyes of Indian tour operators and foster partnership between them and Russian tourist firms, improving Russia's tourist image and encouraging new contracts, which will increase the flow of Indian tourists to Russia. Russian participants in the Outbound Travel Mart see the exhibition as a prestigious and respected fair at which it is interesting to work. Even if just one per cent of India's vast population of over 1 billion were to choose Russia as their tourist destination, it would produce a most tangible effect.
All rights reserved by Rossiyskaya Gazeta.