Defined by global culture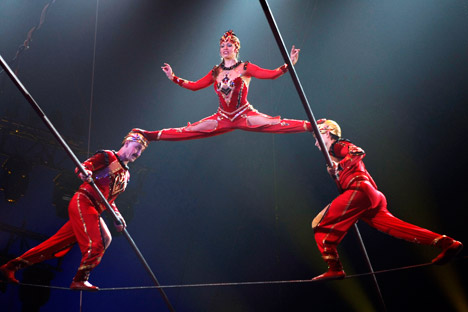 Russia's 'Tsisov' perform during the opening ceremony of the 33rd International Circus Festival. Source: AP
The longstanding tradition of citizen diplomacy, once a popular means of improving relations between Moscow and Washington, has come back again. Sort of.
During the days of the Cold War, cultural exchanges were commonplace. The Soviet Union sent the Moscow Circus, Ukrainian folk dancers, the Bolshoi and Kirov ballet companies and even the Moiseev folk dance company, to name just a few, to tour the world in hopes that by educating the world about their culture, peace and understanding might come, well, a bit faster maybe. Even when the Kremlin and the White House were barely talking to each other, discourse could be found at the local levels vis-a-vis the extended tours throughout both countries by their counterparts' cultural programs. For its part, the United States often sent modern ballet companies, Ice Capades, marching bands, gospel choirs, anything typically American. The tradition of such exchanges, by the way, came about during a thaw in the Cold War, as an agreement between then-U.S. President John F. Kennedy and Soviet Premier Nikita Krushchev.
Fast forward to the 21st century. Since the Iron Curtain came down, the whole practice of exchanging cultural programs for the purpose of promoting peace (and not just making a profit) have withered down. Why? Who knows. Plenty of acts have hit the road in the past 20 years, but they are commercially oriented, with the likes of Britney Spears performing in the Russian capital, and the Kirov ballet at the Kennedy Center. No longer are there the added benefits of cultural exchange, like embassy-organized meet-and-greets, visits to the schools, or tours to smaller cities.
However, with the "reset" of U.S.-Russian relations, the education and peace-oriented programs are back. Last year U.S. President Barack Obama and Russian President Dmitry Medvedev signed a formal agreement that made 2012 the year of cultural exchanges between the two countries, albeit mostly taking place in Washington and Moscow, but still.
In Las Vegas, which is my home and also the home of 2,000 Russian circus performers, this exchange agreement is highly welcomed, in part because the Russians in this city already contribute so much to the local culture of the famed Las Vegas Strip. There are now 10 working circuses on the Strip, more than any street (and city) in the world, by far, and much of the talent comes from the Motherland. Acknowledging this and the importance of cultural exchanges in international understanding and cooperation, is none other than Nevada's Senator Harry Reid, who is also the Senate Majority Leader in the US Senate. Senator Reid had this to say about the agreement:
"Cultural exchange is an important way to bring diverse people together, and Las Vegas is a city defined by global culture. Continued cultural exchange helps individuals of different backgrounds understand one another."
All rights reserved by Rossiyskaya Gazeta.