Once again, the question: "Who is Mr. Putin?"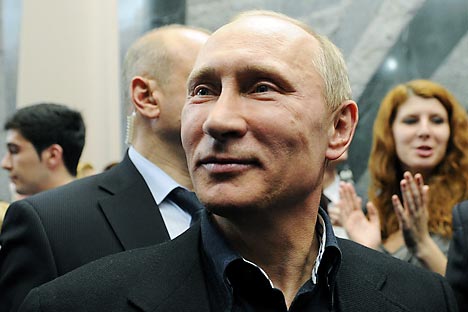 Although the political Putin has been demonized in the Western press, Russians welcomed him. Source: ITAR-TASS
After Vladimir Putin was first elected president in 2000, journalists spent the next six months trying to figure out who he was. Not one but two Putins quickly emerged. The first is better known to foreigners. This is the political Putin, who nixed the popular elections of regional governors and drove the oligarchs out of the Kremlin. Putin's image of strongman reached its zenith with the jailing of Mikhail Khodorkovsky, the former owner of oil company Yukos, in 2003. By the start of Putin's second term in office in 2004, he was fully in control of the country and imposed a political stability on Russia that has remained ever since. Although the political Putin has been demonized in the Western press, Russians welcomed him as a much-needed change after the chaos of the Boris Yeltsin era.

But the second Putin is much better known to the locals, and he is the reason that so many people still vote for Putin in national elections. This is the economic Putin.

Even before the oligarch arrests or end of regional elections were introduced, Putin slashed income taxes to a flat rate of 13 percent and corporate taxes to 24 percent. More subtly, he introduced a federal treasury system that put the center back in control of the nation's finances and stopped the rampant stealing by regional administrations. Then he launched the Gref plan of liberal reforms. These reforms, together with rapidly rising oil prices, led to a sustained economic boom that transformed the Russian economy.

And it should be no surprise that the economic Putin is genuinely popular among many Russians. When he first became president, the average income was a mere $50 a month; today it is $800 — a 16-fold increase.

Over the months of the 2012 Russian presidential campaign, it became clear that the country needs a new growth model; the old one of high oil prices accompanied by heavy spending is not going to work for much longer. At the same time Putin, for his part, reverted to his tough-guy political persona.

Now, as Putin prepares to re-take his old job, pundits find themselves asking the same question again that they did in those first months of 2000: "Who is Mr. Putin?" Is he a leader who can guarantee Russia's stability and economic growth, or is he someone the West should fear on the international stage?

The obvious answer is that nothing has changed and Putin will continue to be the person he has been for the last 12 years: a politician prickly on the political front, but progressive on the economic one.
All rights reserved by Rossiyskaya Gazeta.