The distant latitudes of childhood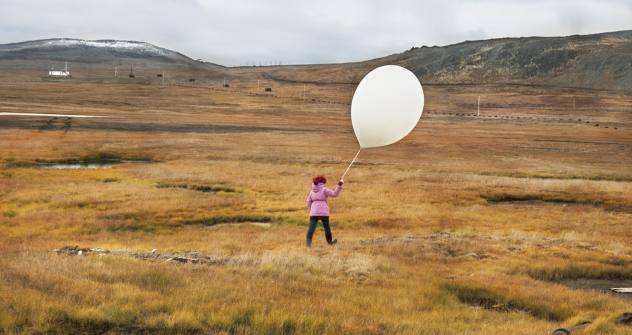 Evgenia Arbugaeva: "On a more general (but related) level, I want to capture the universal feeling of being a child, it seems that photography shares a great deal with the spirit of a child's imagination." Source: Evgenia Arbugaeva
Evgenia Arbugaeva has received a Magnum Foundation International grant for a project in her hometown of Tiksi
Russian photographer Evgenia Arbugaeva has been awarded one of eight Magnum Foundation International Emergency Fund grants, which are aimed at rewarding stories that address issues and groups in the shadow of the usual news flow. These are stories that require a slow and strong involvement in the subject matter; their protagonists do not usually appear on the front pages of newspapers. But there is a breed of photographers ready to record those lives.
Arbugaeva's hometown, Tiksi, is one of these stories. A port city on the Arctic coast in the Republic of Sakha, Tiksi is undergoing a process of abandonment. Arbugaeva's objective is to show the overlap of landscape of memory with the reality of the present through the eyes of an unexpected companion, a girl named Tania.
"One of the reasons I went back to Tiksi and started to take pictures of the place is because I felt that I was getting old, although it seems ridiculous to say that at my age, 26. I wanted to revisit my childhood before I became an adult." It had been 18 years since Arbugaeva had been to Tiksi. "Over time, I began to wonder if the surreal images stored in my memory still existed," she said in an interview with RT. Catalan writer Mercé Rodoreda once wrote that life lasts until childhood ends. The path to that involves keeping an eye on that territory at every step.
Arbugaeva's journey does not differ much from that of other Arctic Coast families following the Moscow government's 1991 decision to cease financing projects in the North. Surrounded by miles and miles of tundra, they saw no other choice but to pack their bags and migrate to the big city. Arbugaeva was eight years old when her family left Tiksi. Her memory idealizes the city. "The icy tundra stretched around. But the fields were not white, as you might think, because the aurora borealis crowned the sky. The snow was stained green. And then summer came, with the melting snow, and the tundra became the planet Mars. The golden hue stretched to infinity in all directions."
Arbugaeva says that it has been difficult to locate such intense feelings as she has grown older, so the project is not limited to the photographer's life experiences. Thirteen-year-old girl Tania has retained the curiosity and optimism at her age: She dreams of being the new Cousteau, a researcher at the bottom of the sea. However, this fall, her family intends to move to a big city. The story repeats itself. "It is possible that when she becomes older she will try to remember Tiksi, as I did, and her mind will travel there in dreams. I wanted the images to be like postcards of Tania's childhood. Tiksi's world will disappear as soon as Tania leaves. As she grows up, she won't see Tiksi as somewhere beautiful and fun, but as town that struggles to escape poverty, with very adverse weather conditions and almost like a desert."
On the other side of the same coin, another one of Agubaeva's projects, "Following the Reindeer," records a year of living with nomadic tribes in the republic. There are just 1,500 Yakut hunters and gatherers who have managed to maintain their ancient nomadic culture. "The world of reindeer herders, like many other indigenous cultures, is disappearing under the influence of the modern world, and the younger generations are not willing to lead a life as hard as their ancestors. For two or three months I lived with some of them. I did the same things as them: I cooked and cared for children in a teepee, so they were never very curious about what I did with the camera. I wasn't seen as a photographer but simply as a foreigner. They are a very friendly and sincere people. Nomads know about the rest of the world through the radio and travel to other towns, but they do not associate it with their way of life. They have their own cosmos in wilderness and isolation. The reindeer herders, like any other parents, also want the best for their children, even if it means sending them to study in the cities. But many are afraid of being away from their reality."
Arbugaeva, with one foot in New York and the other in Moscow, still retains her genetic discomfort of cities. "I feel a great connection to Siberian nature; I miss it a lot when I'm in New York. If I don't escape the city from time to time... I think I will go crazy."
The Magnum Foundation grant will allow her to continue her photography projects. In addition to financial aid, she will receive editorial guidance and logistical support.
Read more information on the Magnum Foundation and Argubaeva's work.

All rights reserved by Rossiyskaya Gazeta.