Moscow welcomes spring Indian way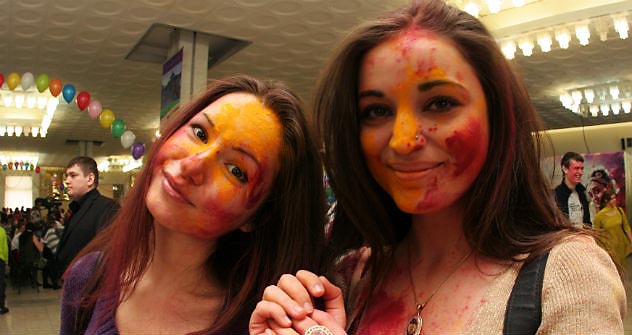 On 9 March, Moscow Gubkin Culture Centre featured a noisy and merry crowd. It seemed all the Indians in Moscow had come here – they welcomed the spring, celebrating Holi Mela.
It was about minus 15 degrees outdoors and the long-awaited heat seemed very far but an atmosphere of warmth and delight reigned inside. Hundreds of carefree children were running hither and thither, squealing with fun. A million temptations surrounded you – accessories and cosmetics from India, henna tattoos, priceless yoga consultations. The famous hot Indian dishes could be tasted nearby – the smiling chefs cooked them in front of the visitors. Women in incredibly colourful clothes were parading around. It seemed, for a second, that we were in India not Russia.

Holi Mela is one of the most significant Indian festivals, dating from several centuries BC. Originally it was a ritual that married women performed to secure peace and happiness for their families.

In India, Holi Mela is celebrated universally by entire towns, so we just caught a glimpse of it in Moscow. Yet even that glimpse left us with overwhelming impressions! One of the main objectives of the event is to make the world around you more colourful and brighter; so, on this day, the faces of all the guests, from ordinary clerks to high-ranking diplomats, were painted with Ayurvedic powders. It is very important to underline the equality of all people during Holi Mela – painting contributes to the "equality" of all faces. "Painted faces look alike, which underlines the unity of all people", explains Sammy Kotwani, President of the Indian Business Alliance, who has organised Holi Mela for many years.

Attending the festivities was Ambassador of India to the Russian Federation Ajai Malhotra, who noted: "Anyone who has a connection with India and Indian culture should be proud of this festival. It bears the spirit of spring and happiness! Here we have forgotten all of our disappointments and celebrate the festival of colours – so magical and bright!"
Songs and dances naturally become essential attributes of any feast. Some three thousand people came to watch famous Indian dances performed by groups from Russia and elsewhere in the CIS. Those who were late for the performance found no free seats but were able to watch the dances on a large screen on the ground floor. Holi Mela dancing groups competed for several prizes – traditional Indian dances, old dances, dances from Bollywood movies and special acts designed specially for the festival.

The dancers set the audience on fire – people in the back rows were overwhelmed with emotions and were not shy to display them. We saw familiar scenes on stage that we had previously seen in Indian films. The festival treated its guests not only to extraordinary music and dances but also to beautiful colourful costumes. Moscow's Chakkar group was awarded the "Holi" prize for the best traditional dance, the Tarang group won the "Contemporary India" prize, and Kharkov's Sitara group won the "Old is Gold" trophy.

Live music was another welcome surprise of the festival – Charlie Armstrong, grandson of Louis Armstrong, performed his famous grandfather's hit "What a Wonderful World".
The spring welcoming festival in cold Moscow was a huge success. "Here we have forgotten all our disappointments and mishaps and have plunged into the atmosphere of fun, love and beauty!" said the Indian Ambassador Ajai Malhotra.
All rights reserved by Rossiyskaya Gazeta.