Streltsov, Russia's Pelè in the gulag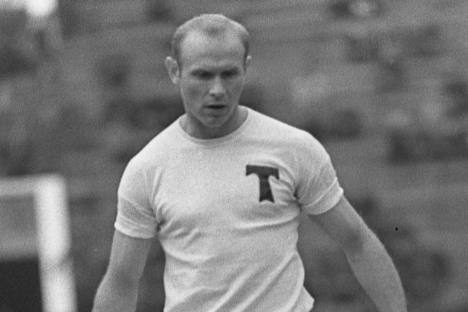 Eduard Streltsov. Source: PhotoXPress
One of Russia's first sports rebels went from the Soviet national team to a force labor camp in Siberia. Today Eduard Streltsov is recognized as one of the greats.
Eduard Streltsov. Source: PhotoXPress
There is a move in Russian football called "Streltsov's kick." This heel kick – recently performed by Zenit St. Petersburg midfielder Sergei Semak in a Champions League match – is the mark of one of the greatest players in Russian football history.
At 16, Eduard Streltsov was a star of the Torpedo Moscow football club. Two years later, in 1956, he lead the Soviet Union to a gold medal in the Melbourne Olympics. His dream was to challenge rising star Pelè at the World Cup in Sweden in 1958. But Streltsov was also a Bohemian beatnik who liked wild parties with lots of vodka and attractive blondes. By choosing to play for Torpedo rather than the KGB club Dynamo or the Army club CSKA, Streltsov did little to curry favor with the Soviet elite.
When a young woman accused him of raping her during a party at the Kremlin, there were few with any influence who were willing to come to his defense. During his interrogations, he was told that if he confessed to the crime, he would be allowed to play in the 1958 World Cup, and so Streltsov signed a confession, despite inconclusive evidence against him. But it was a trap; the footballer was sentenced to 12 years in the gulag. At the Swedish World Cup, the Soviet Union lost in the quarterfinals to the home team. When the teams had met in 1955, the Soviets, lead by Streltsov, defeated the Swedes, 6-0.
Streltsov was released after five years and returned to Torpedo Moscow. He helped his team win the Russian championship in 1965, and a year later, he aided Torpedo in a European Cup match against Inter Milan. Streltsov also returned to the Soviet National team, collecting 24 goals in 38 matches. He retired from football in 1970, but continued to help the sport, helping coach youth teams. He died of cancer in 1990, at the age of 53. In 1996, Torpedo Moscow renamed their field Eduard Streltsov stadium in his honor, and a statue of him stands within Moscow's Luzhniki Stadium.
All rights reserved by Rossiyskaya Gazeta.