India-Russia ties to grow under new Putin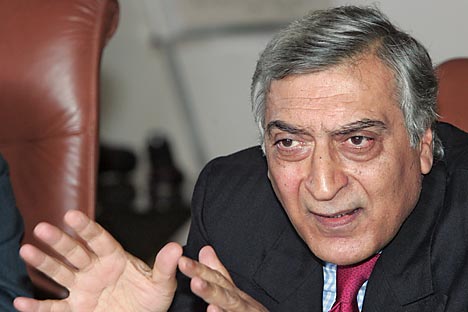 Despite West frowning on Vladimir Putin's victory in the presidential election, India respects his leadership in Russia and appreciates his role in the development of strategic partnership between the countries, Dr. Kanwal Sibal says.
Vladimir Putin's pronounced victory in the Russian presidential poll on March 4 with around 64 per cent of the votes — slightly less than the 70 per cent he won in the 2004 election — suggests that his popularity with the electorate en mass hasn't dropped significantly, according to Dr. Kanwal Sibal, former foreign secretary of India.
Previously, the parliamentary elections in December 2011 were tainted by accusations of vote rigging and engendered the unprecedented anti-Putin rallies in Moscow creating the impression of the urban middle-class electorate's manifested discontent with Putin. But in contrast to the December parliamentary election, the March presidential poll in Russia has not evoked such a tumultuous reaction of the public because of some unprecedented measures aimed at tackling manipulation during the voting process.
The opposition's complaints of not being given equal time during the election campaign TV debates and Putin's withdrawing from participating in them, and so on are not enough to fuel street protests against the president-elect. But the West will encourage those disagreeing with the outcomes of the election to continue displaying their displeasure with a purpose of sustaining political unrest in Russia as long as possible, believes Kanwal Sibal. The principle of non-interference in the internal affairs of countries is violated to the point where even major powers like Russia are forced to be answerable to others for the conduct of their domestic politics.
In Dr. Sibal's opinion, there wasn't any doubt of Putin's winning the election; the dilemma was whether he would win in the first round with 50 per cent plus one of the votes or be forced to participate in a second round, in which case public sentiment against government policies might have prompted the implementation of reforms that the middle and entrepreneurial class in Russia craves for. Russia, indeed, needs political and economic reforms, he says, and explains that corruption, red-tape, over-centralization of power, weakness of the judicial system and suppression of entrepreneurial initiative are problems that even the government admits.
But according to Dr. Sibal, Russia also needs a period of stability to regain its composure. After all, the country has had to experience a number of traumatic occurrences for the latest 20 years. The painful collapse of the Soviet Union, the insecurity of the Yeltsin era and the negative experience of the Russian public with democracy and the market economy in the 1990s have scarred people's consciousness and made them wish above all for safe and stable life. And for many Putin has symbolised that stability since 2000 and till now. On the other hand, at a certain point, there is a risk that stability can turn into stagnation, and that's why Russia now needs to find a new balance between stability and reform.
Putin has not hesitated to censure over-militarized, unilateral Western policies targeted at following the geopolitical interests of the West, often at the expense of perceived Russian interests. In an article published under his name shortly before the presidential election, he speaks of "deliberately managed chaos" and attempts to provoke conflicts close to Russia's borders, as also of "basic principles of international law being degraded and eroded, especially in terms of international security". He also emphasises the need for Russia to "sufficiently develop its military potential as part of a deterrence strategy" so as to make others "listen to our country's arguments". Referring to those "calling for resources of global significance to be freed from the exclusive sovereignty of a single nation", Putin expresses covert fears about outsiders seeking control over Russia's natural resources. So it's not surprising that he speaks of spending almost $900 billion over the coming 10 years on the modernizing of Russia's defence industry.
Putin is driven both by defensive impulses and by ambitions to reinstate Russia's authority on international arena, Dr. Sibal reckons. Western pressure on Russia has pushed it to a closer strategic cooperation with China, despite Russia's own concerns about the latter. Russia may need to collaborate with China in the issues that divide both of them from the West. But China, with its much bigger demography and economy, has replaced Russia as the number two global power, and it is from China's vast population and need for resources that Russia would eventually need to protect Siberia. Russia's striving for multipolarity, reflected in its promotion of groupings like Ric (Russia-India-China) and Brics (Brazil-Russia-India-China-South Africa), is intended to make up for its reduced international status in relation to the West, prevent the latter from imposing the global agenda, create a forum outside the Western block where issues before the international community as well as principles and norms that should regulate international relations can be discussed.
India traditionally has a strong political relationship with Russia. But at the same time, India's relationship with the US has taken a new direction, now that the countries share their anxiety about the impact of the explosive rise of China as well. India, which is going to host the BRICS summit in New Delhi this month, has to play its diplomatic cards deftly. Dr. Sibal believes that the India-Russia relationship should remain one of mutual trust and respect, even as India keeps on fostering its ties with the US, and acidity between Russia and the US does not soften. West Asia should not become a testing site for this complex challenge. In the end, India's position on issues in this region should take into consideration certain basic principles and serve its own national long-term interest best.
According to Dr. Sibal, as far as Putin's election is concerned, India, being a well-established democracy in its own right, doesn't believe in any universal norms of democracy that can be applied in all countries. Also, India's stand is that democracy shouldn't be a tool of pressure in geopolitical games. It is not refraining from expressing its opinions and taking positions; it is more a question of showing respect for diversity, of preventing interference in the domestic affairs of other countries except in extreme circumstances, and so on.
Dr. Sibal says that beyond that position of principle, India recognises and respects the leadership of Putin and his role in building a strategic partnership with India. Having a leader like Putin who has visited India several times, held summit meetings with Indian leaders regularly, addressed various bilateral issues between the two countries constructively, is advantageous for India, he emphasises. India appreciates the continuity that Putin brings to India-Russia relations.
Based on the article published at http://rusembassy.in/index.php?option=com_content&view=article&id=4138%3Aof-principle-and-beyond-it-is-an-advantage-for-india-to-have-putin-as-russias-president&catid=16%3Apress-on-bilateral-relations&directory=155&lang=en
All rights reserved by Rossiyskaya Gazeta.