Russia to launch campaign on missile defence systems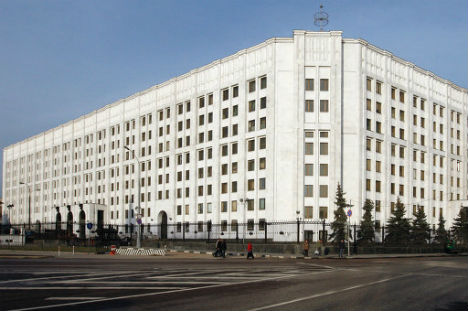 Russian defence ministry. Source: RIA Novosti
Russia plans to launch an information offensive regarding the issue of the European missile defence system. Russia's Defence Ministry has decided to take an unprecedented step: an international conference on missile defence will be held in Moscow on May 3-4. Invitations have already been sent to the defence ministers of the CIS countries, and also to NATO, China, India, and Japan.
It is planned that the military, not politicians will discuss substantially how the future of the European missile defence system could affect the balance of forces, and also possible threats to Russia's nuclear forces, Russia's Deputy Defence Minister Anatoly Antonov told a briefing dedicated to this issue.
According to Russian media, Moscow is dissatisfied with the information, offered by Washington, about the parameters of its missile defence system in Europe as well as about the preparation of counter-measures. These rumours were confirmed: as the Deputy Defence Minister said in the presence of nearly 100 military attaches of foreign embassies in Moscow, the Defence Ministry will hold an international conference on missile defence in Moscow on May 3-4 this year. And this will be an unprecedented step, Anatoly Antonov says.
"I believe you'll understand me well. The point is that a defence ministry is a closed structure anywhere. And we have decided to radically change the current situation and to invite high-ranking specialists in the field of missile defence from the NATO and CIS countries, from the Collective Security Treaty Organization (CSTO), from China, India, South Korea, and some other states, with a proposal to take part in the conference in Moscow. Invitations will also be sent to representatives of Western political science institutions and to representatives of non-governmental organizations from the Russian Federation."
There is reason to believe that the key event at the conference will be the report of the Chief of the General Staff of the Armed Forces of Russia Nikolai Makarov. According to the Voice of Russia, a special presentation is currently under preparation. It will show that a missile defence system will not upset the balance of nuclear forces. We mean the consequences of the third and fourth stages to develop a missile defence system in Europe, when both radars and interception systems will be able to detect and destroy ballistic missiles that are fired from Russian territory. And still, this will not be a one-sided conference because the USA and Europe, will finally, be able to substantially and openly explain their stand.
"We do not think that within the period of one day our American colleagues, as well as all the other NATO member-states, will change their stance. We are not so naïve. The only thing we would like to do here is to attract attention to Russia's concerns on that score, so that our colleagues would start thinking over what might be the consequences for strategic stability if the U.S. plans in the field of missile defence are fulfilled."
Besides, Russia's Defence Ministry plans to organize an excursion to a military facility, where foreign military representatives will make sure that Russia is ready for the deployment of the U.S. missile defence system in Europe, Anatoly Antonov said. He gave no details though. Time will tell.
Originally published in The Voice of Russia
All rights reserved by Rossiyskaya Gazeta.