Severstal bets on India, eyes mid-size steel company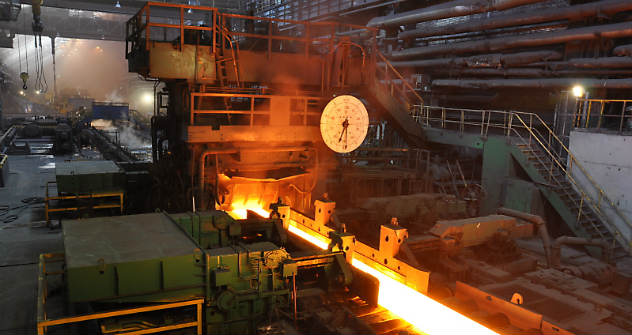 Building upon its pact to set up a joint plant in Karnataka, the Russian steel giant Severstal is now eying the acquisition of a mid-sized steel producer in India. Defying the global downturn, the Russian company is upbeat on the potential of the Indian steel market.
OAO Severstal, the Russian steel giant, is upbeat on the promising Indian market. The company is considering acquiring a medium-sized Indian steel producer, says Thomas Veraszto, Severstal's senior vice president for strategy and corporate development.
The economic downturn, says steel-industry watchers, is good for striking new deals and making new acquisitions as a fall in demand means lower prices for steelmaking facilities. And Severstal is determined to capitalise on this opportunity. The company, however, has made it clear that it is not interested in large rolled steel producers. "In India, we don't expect any major mergers and acquisitions. What we are looking at is potential acquisition of targets in mid-tier players [with an annual steel production capacity of 1-3 million tonnes] that are already in the industry but are limited in scale," he is quoted by Reuters as saying. There are around 40-50 such companies in India but it will be hard for Severstal to find a suitable unit, says Veraszto. An ideal target would have access to raw materials and its own distribution system. Severstal is now studying Indian assets to see which one could meet the company's criteria and needs.
Attempt No.1
If this project is successful, it will be the Russian company's second project in India. In late 2010, Severstal signed an agreement with NMDC, a state-owned company in India, to pursue a joint project to build a new steel producer in the southern Indian state of Karnataka with the initially projected capacity of 3 million tonnes a year. The company may eventually increase its annual output to 5-7 million tonnes but that move will depend on the demand for steel, Severstal's CEO Alexei Mordashov said.
Mordashov and NMDC Managing Director Rana Som signed the implementation protocol for the project during a visit by an Indian government delegation to Moscow in November 2011. The document confirms the intention of the NMDC and Severstal to meet in full the joint venture's captive requirements for raw materials. Until the captive assets are fully developed, Severstal and NMDC will shoulder the responsibilities of supplying coking coal and iron ore to the joint venture from their existing assets or alternative sources. The company will produce car body sheets and electrical steel. An important condition of the contract is for the Indian party to take part in Severstal's project to produce coking coal at Tyva Republic deposits.
"The joint venture between Severstal and NMDC will be another milestone in India-Russia economic cooperation and constitute an important investment for the Indian steel industry," said India's Secretary for Steel P.K. Mishra. According to reports, the new Russian-Indian joint venture is scheduled to for launch in 2014.
India: Prospects and Difficulties
The world's leading steel producers, besides Severstal, are showing an interest in the burgeoning Indian market. Over the last decade, India has achieved an impressive breakthrough in both production and consumption of rolled steel. Come to think of it: India used to be the world's ninth-biggest steel producer, at 26.9 million tonnes a year in 2000, but made it to number four, at about 70 million tonnes in 2011. The Indian government believes this figure will grow to 115-120 million tonnes annually in 2013, securing India the second place globally. And there is more to come: by 2020, the country will increase steel output to 150 million tonnes a year and consumption to 130 million tonnes, say high-ranking Indian officials. But there are hidden stumbling blocks for steel producers – not only the Russian ones – willing to profit from the rapidly growing Indian economy. The main problem that potential investors might encounter is the impossibility of acquiring land to construct new facilities. The situation is really tense now, as local residents with the tacit approval of the authorities, are inclined to stage protest actions and block construction sites. One vivid example is the series of megaprojects, worth tens of billions of dollars, launched back in 2007 by the leading steel producers – Arcelor Mittal (the world's biggest steel producer) and Korea's Posco – to build three big new foundries in India with annual capacity of 32 million tonnes.
Years later, investors see very little progress largely due to problems related to land acquisition. If these giants fail, what can the other steel producers do? According to the Indian government, over the last 5-6 years, about 240 memoranda on setting up iron and steel units worth $250 billion have been signed. Yet very few have made any real progress so far.
"Our companies have mastered the art of signing memoranda, as most of them remain on paper only. India would be ahead of the United States in terms of steel production capacity if all these agreements on steel plants were implemented," Steel Minister Beni Prasad Verma complained recently.
Severstal is no stranger to the country and is aware of the prospects as well as difficulties of working in India. "Starting from the scratch in India is difficult because one needs to obtain all the licences. It's much easier to get into a company that has all of these in place, rather than doing it on your own," says Veraszto. It appears that buying an existing asset might help Severstal compensate for the potential problems in implementing the joint project with NMDC.
All rights reserved by Rossiyskaya Gazeta.