Prospects for BRICS cooperation: stability and growth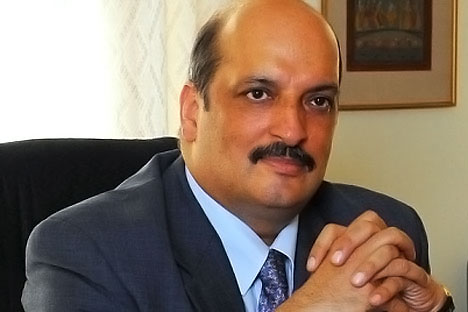 Interview with Ajai Malhotra, Ambassador of India to the Russian Federation, in the run-up to the New Delhi BRICS Summit.
How does India see the forthcoming summit? What objectives, do you think, the summit could help attain, and what could generally be the prospects for cooperation inside BRICS?
BRICS has come a long way since its first stand-alone Summit was held in Yekaterinburg in 2009. India assumes its chairmanship at the 4th BRICS Summit in New Delhi on March 29 this year. The deliberation of our leaders at the New Delhi Summit will naturally build upon the BRICS agenda that has evolved over the past three Summits and over several Ministerial and official level meetings. This is not a small task as the BRICS agenda today is vast, covering areas such as finance, business, agriculture, health, culture, sports, security and sustainable development.
BRICS represents not merely rapidly emerging economies, but a unique grouping that has grown in influence and evolved mechanisms for consultation and cooperation in a variety of sectors. It has the capacity and political will to engage with the international community and contribute to global well-being, stability and growth. Its activities are now closely watched by the rest of the international community. The theme "BRICS Partnership for Global Peace, Security, and Prosperity" chosen for the New Delhi Summit, is particularly apt.
The BRICS countries are rich in resources, both human and material. They share a common vision of a world of inclusive growth and prosperity. They seek a rule-based, stable and predictable world order in an age where science and technology and knowledge have become amongst the main determinant of a nation's wealth and clout. There is, therefore, enhanced focus within BRICS to generate cooperation activities that develop synergies between our respective strengths and helps promote sharing of experiences in areas of capacity building, education and skills development. Besides imparting further momentum in taking the BRICS agenda forward, we will no doubt see new ideas of cooperation emerge during the New Delhi Summit as well.
How would you comment on some international experts' claims that BRICS could prove important in reforming the world management system, as well as to become the world community's weighty partner in settling global problems?
Well, one of the lessons of the global financial crisis of the years 2007-08 is that international decision-making on economic issues can no longer be made by a small group of countries and that it must be democratized to reflect present day realities.
BRICS countries have emerged as important factors promoting economic and financial stability and growth in the international economy. This reality is reflected in the deliberations within the G-20, where BRICS is making significant contributions to seeing that the international community addresses itself to long pending structural reforms in the global economy to avoid recurrence of a crisis. We are also working to see that development institutions, international aid and capital flows are harnessed to address poverty, hunger, disease, food and energy security, and the issue of sustainable development.
Our record of the past few years has shown that we are a grouping that has the capacity and wherewithal to constructively engage with the international community on a broad range of issues.
India suggested setting up a "South-South" development bank during a recent meeting of the BRICS Finance Ministers in Mexico. What kind of objective the project could attain, do you think?
As you know, this is an idea under discussion within BRICS that is based on a study by two eminent economists, Professor Stern and Professor Stiglitz, who have argued that the global economic downturn had led to a situation where savings from developing countries were flowing towards developed economies, thus reducing the availability of capital for development projects in the developing world. The idea is for BRICS countries to establish a development bank that will harness savings generated in developing countries and direct them to projects in the developing world in sectors like infrastructure, sustainable urbanization, developing mass transportation systems, improving energy efficiency, etc, which are integral to securing sustainable development.
That having been said, the idea of a "South-South" development bank is an ambitious one that will require careful preparation and groundwork. It is still at the very initial stages of discussion, study and consideration.
Do you think the BRICS countries could eventually rely increasingly heavily on their national currencies in settlement payments?
Several initiatives are being pursued within BRICS to construct an enabling environment that will promote greater intra-BRICS economic cooperation. Developing instruments that lead to a greater reliance on local currencies for intra-BRICS economic transactions is one such initiative.
At the Sanya Summit last April we signed a framework agreement on financial cooperation envisaging grant of credits in local currencies. We are presently discussing the possibility of putting in place currency swap arrangements that could promote greater use of local currency in settling intra-BRICS trade transactions. Let us see how it evolves and what emerges.
How would you comment on the current level of Russian-Indian cooperation in the framework of BRICS?
Well, the special and privileged Strategic Partnership between India and Russia builds on a time-tested relationship and we will commemorate the 65th Anniversary of the establishment of our diplomatic ties on April 13 this year. In contrast, ongoing activities that take place amongst BRICS partners are still at an early stage. While the level of our cooperation in the BRICS framework is extremely good, India-Russia cooperation can itself be a good inspirational model for the rest of BRICS!
Originally published in The Voice of Russia
All rights reserved by Rossiyskaya Gazeta.