Fedor Emelianenko in India?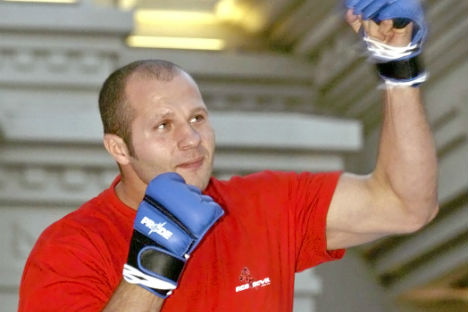 Fedor Emelianenko. Source: en.wikipedia.ru
This summer may get literally very hot for heavyweight fighter Fedor Emelianenko – Indian promotion Super Fight League has been reported to target the Russian fighter.
A source told Fighter Only that the MMA veteran is top of the target list for the newly-emerged Indian promotion, which staged its first event this month.
Fedor is currently in free agency, his Strikeforce contract having expired following the July 2011 loss to Dan Henderson. That was the third defeat in a row for Emelianenko, after his losses to Brazilians Fabricio Werdum and Antonio 'Big Foot' Silva.
Since he left Strikeforce, Emelianenko has earned dubious victories over 41-year-old veteran Jeff Monson and prospect Satoshi Ishii, an undersized heavyweight, who had previously had only six fights.
"Fedor is definitely a fighter we would consider and would be honoured to have fight in the SFL", says SFL executive Ken Pavia. "Realists have to put him at the top of the pound-for-pound MMA list, given the longevity of his dominance. Participation by such a legend could only enhance an emerging fight promotion," he adds.
Spokesman for MMA-1 (formerly known as M-1 Global) Evgeni Kogan was immediately available with a comment.
"We are, of course, flattered by Pavia's statement and, if there are any concrete proposals for co-operation, Fedor and Vadim will naturally consider them seriously", he said.
The parties seem genuinely interested in cooperation and the only thing now is to make it clear whether the SFL executives have a couple of million to spend on "consultation services" and whether they are ready to split their event incomes 50-50 and hold six-months of negotiations after Emelianenko's every fight.
All rights reserved by Rossiyskaya Gazeta.