Nissan resumes production of the Datsun in India, Russia, and Indonesia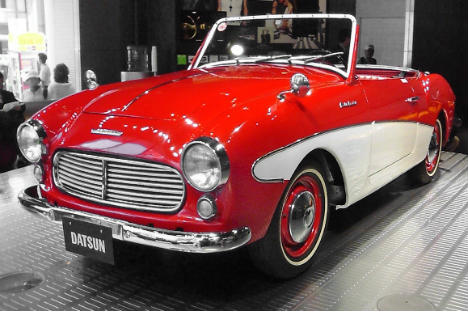 Datsun Fairlady. Source: en.wikipedia.org
The inexpensive sports car should strengthen the company's position in emerging markets
The Datsun car make, from Japanese company Nissan, is returning to the market after a 30-year hiatus. The Datsun will be presented in the Indian, Russian, and Indonesian markets in 2014.
Nissan CEO Carlos Ghosn announced this on 20th March during a business trip to Indonesia. The company intends to revive the Datsun brand with the same ideology that allowed the car to gain popularity in the United States from 1958 to 1986, when the line was discontinued.
Now, as then, the Datsun is being positioned as a quality but affordable sports car also suitable for young families. Nissan has chosen to sell the brand in the rapidly developing markets of India, Russia, and Indonesia. Datsun cars will presumably be manufactured in these same countries, but this has not yet been officially announced. The model will not return to the US, EU, and other developed markets.
"A lot of people in emerging markets today are driving motorcycles, some of them are driving used cars, others can buy a new car but, in fact, it's antiquated with very old technology and a very old platform – cars which have been there for 20 years or more," Ghosn said at a press conference in Jakarta. "What we want to offer is a modern, affordable car – something that people will be very happy to own, a product that is generous, giving them exactly what they want, and at an affordable price."
According to him, there is a price bracket below which Nissan Motors cannot compete. And this company is going to fix that. "The risk is to do nothing because it means that in India 40% of the market escapes us, in Russia 40% of the market escapes us, and what we think will be 40% of the Indonesian market will escape us. That's the biggest risk. The risk is to do nothing," Ghosn added.
Earlier, Japanese media reported that Nissan expects to sell up to 300,000 Datsun cars per year. The manufacturer's price, according to preliminary projections, will be about $6,000.
Francois Goupil de Bouillé, CEO of Nissan Motor Rus, told Russian media that the Russian model of the Datsun will differ from those sold in India and Indonesia. He predicts that by 2016, a total of 400,000 to 500,000 cars from the Nissan, Infiniti, and Datsun lines (all of which belong to the Renault-Nissan concern) will be sold in Russia. 100,000 of them will be the Datsun.
The return of the Datsun model is part of the Nissan Power 88 business plan. It encompasses the years 2011-2016 and suggests that Nissan Motors' presence on the world market and its profitability will reach 8%. The company's management forecasts producing 90 million vehicles by 2017.
At the moment, Nissan Motors' global presence is estimated at around 6%. In 2011, the Renault-Nissan Alliance increased its presence on the global market to 10.7%. France's Renault owns a 44.4% stake in Nissan Motors.
China remains Nissan's principle market. The company's largest plant is located in the Guangzhou province. In February 2012, Nissan announced that its annual revenue on the Chinese market reached $1 billion. By 2012, the company planned to sell 1 million new vehicles in China annually.
All rights reserved by Rossiyskaya Gazeta.