Translating Tagore: tough but tremendous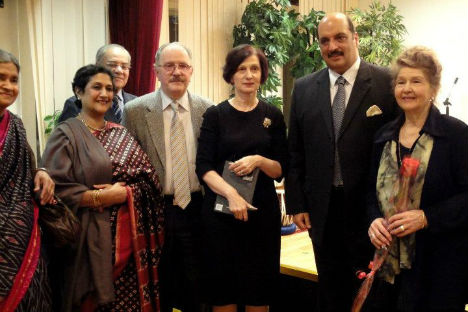 Ms Krishna Roy, Ira Malhotra, Rathin Chatterjee, Irina Prokofieva, Ajai Malhotra и Tatiana Morozova.
Dr. Tatiana Morozova for the first time ever put Tagore's poems to western classical music notation. With the release of her book "Rabindranath Tagore – Geetanjali – Musical Poems", Tagore's poetry will reach an even wider audience.
On March 21, 2012, HE Mr. Ajai Malhotra, Ambassador of India to Russia launched at the Embassy of India, Moscow, the book "Rabindranath Tagore – Geetanjali – Musical Poems", edited by Dr. Tatiana Morozova, translated by Dr. Irina Prokofieva, and published with the support of the Bengali Society, Russia. The event took place in the context of the commemoration of the 150th birth anniversary of Gurudev Tagore.

Ambassador Malhotra lauded the unique book which, for the first time ever, puts Tagore's poems to western classical music notation and provides accompanying text in Russian for 60 poems from Geetanjali as well as 16 other songs written by Gurudev at different stage of his life.
Dr. Tatiana Morozova, Russian renowned musicologist and Indologist, once again proved that Rabindranath Tagore's heritage is culturally universal and transcribing his Geetanjali into an entirely different music notation doesn't take away anything from the greatness of his works. The author of the book was very emotional while speaking of Tagore's unique musical rhythms and the imprint his music leaves in her soul, and even sang some poems of Tagore evoking delighted reactions from the guests of the event.
Ambassador Malhotra thanked the large number of Russian admirers who had graced the event to honour Tagore. He praised the exceptional lyrical qualities of Tagore's works, which evoke feelings of having originated from a moment of very quiet, calm contemplation, after deep introspection. He also appreciated Gurudev's bold and vivid imagery and the sincerity and sensitivity of his verse. Appreciating the new book Ambassador Malhotra said, "I am very happy that with the release of Dr. Tatiana Morozova's book the poetry of Gurudev Tagore will reach an even wider audience."

Amongst other prominent speakers who congratulated Dr. Tatiana Morozova were Dr. Marina Filatova, Professor, Moscow State Conservatory, Dr. Violetta, Professor, Moscow State Conservatory, and Dr. Irina Prokofieva, Professor, MGIMO, all of whom recalled their association with Dr. Morozova and their affection for Gurudev Tagore.

The official ceremony was followed by rendering of Tagore's songs by Mr. Vishwarup Sanyal accompanied on the tabla by Mr. A Badrinarayan Pandit, JNCC Tabla Teacher. Ms. Krishna Roy impressed the audience by giving a powerful recital of a Tagore poem. It was followed by a dance composition on Tagore's poetry by ten-year old Arsenia Sibilova, which was probably the most striking performance of all, with the audience amazed at a young child's exquisite rendering of the complicated dance composition. MGIMO students recited Rabindranath Tagore's poems in Russian and Bengali, and even though they appeared somewhat anxious performing in front of many connoisseurs of his works, they did their best to convey the profound philosophy and strong emotion of Tagore's "Last Poem" and other verses. The presentation ended with a Kathak composition based on Tagore's poetry, rendered by the "Magic Flute" Indian Dance Studio of Ms. Yefrosinia Sibilova. A reception hosted by Ambassador Malhotra followed.
All rights reserved by Rossiyskaya Gazeta.