Portraits of directors from BRICS countries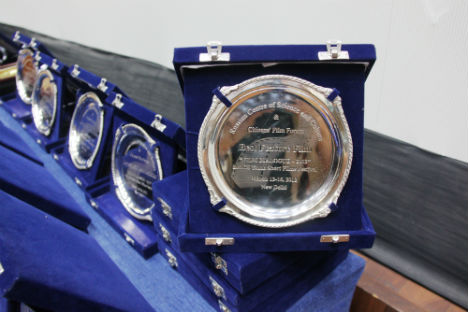 The inaugural BRICS youth short film festival blends motley impressions from the culturally diverse countries.
"Film Dialogue" - the festival of short films by young directors from BRICS countries had a varied selection of movies. However a closer look reveals a shared vein amongst the culturally diverse milieu. Young directors everywhere take up subjects which are personal and at the same time universal - they create narratives both personal and shared, present conflicts within one and outside, describe incidents caused by circumstance or intent, raise concerns of an individual or a society, delve into matters of love and passion, or provoke inquisitions whether childlike or radical.
"The festival gives us a rare opportunity to know and understand each other better as these films reflect the feelings, interests and public mood, common to our young people" observed Mr. Sergey V. Karmalito, Senior Counsellor, Embassy of the Russian Federation in India. With this objective of promoting cultural ties, the Russian Centre for Science and Culture in New Delhi and Citizens' Film Forum organized the first ever film festival dedicated to BRICS countries. The event included a competition of short films while full length feature films were also screened.
The film festival projects portraits of outstanding directors from the five nations.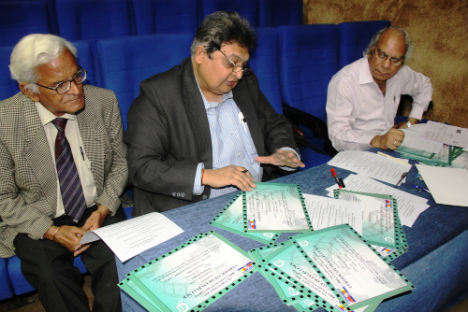 Sathish Chandrasekaran, India
Sathish Chandrasekaran won the "Best Director" and "Viewer's Choice" award for his personal narrative Sathish Chandrasekaran B.E, MBA (Bar). The protagonist, an engineer turned film director, recounts his life from childhood when his son questions him about his education and makes him wonder if he should tell the whole truth. The story could be of any young boy who follows what he is told to be the right career choice and later realizes what he really enjoys. It is a simple story, wittily told.
Finishing engineering in 2008, Sathish got into a software job upon his parents' insistence. A chance meeting with a director inspired him to resign and take up filmmaking. His first ever short film, Sathish Chandrasekaran B.E, MBA (Bar), started almost on an impulse "I was fed up of looking for a female lead for an earlier story. No one was willing to bank upon a newcomer like me. Then in a fit of rage I got this idea and finished the script within a day. It all started with a question 'how do children start lying.' With a little research I found that children learn everything, even lying, from their parents. Children ape their parents but parents don't want their children to repeat their mistakes." The movie got 10,000 hits on YouTube within two days of uploading.
The Head of the jury for BRICS festival, Sudhir Bose, a film critic and lecturer attributes Sathish's treatment of the movie for earning him the award, "It was for his ability to look at his career in a detached manner. Introspection is always difficult." This international recognition and a number of college level awards in his hometown Chennai laud the 26 year old director's decision to give up a predictable career to follow his true ambition.
Ainur Askarov, Russia
The short film "Enmesh" written and directed by Ainur Askarov bagged the awards for "Best Feature Film" and "Best Male Actor." It is an autobiographical story of a boy who aspires to see a show of the Bollywood movie "Disco Dancer" in the local House of Culture. The daily film show is a high point of life in the remote Bashkir village. The young Illnur, an ardent fan of the Indian cinema struggles to go to his favourite movie screening.
Askarov graduated from the Sibay College of Arts as theatre and film actor and later joined St. Petersburg State University of Cinema and Television. Born and raised in Akyar, Bashkortostan, the director pays homage to his home province with an endearing portrayal. "Enmesh" went on to win several awards at Russian and international film festivals including the Youth Jury Prize, "Message to Man" at the 2011International Short, Documentary and Animated Film Festival in Russia. The film was also demonstrated hors concourse at the 64th Cannes Film Festival.
To the BRICS film festival jury it was a reminder of the popularity of Indian cinema in Russia. "I watch this film and imagine the craze for Raj Kapoor's movies in the 50's" Sudhir Bose noted the appeal of the movie, "The striking quality of this movie is the child actor's performance. The director has handled him very well."
"Enmesh" was produced in 2010 by the Bashkortostan Film Studio which represents their national film industry. The critical acclaim of the movie will be followed by participation in several more film festivals.
"When my parents went on vacation" - Cao Hamburger, Brazil
The movie is set in 1970 when Brazil was going through political unrest and at the same time was on the verge of its third FIFA victory. A 12-year old boy is sent to stay with his grandparents when his left-wing parents are forced in hiding. The multi-ethnic town of Bom Retiro begins to heat up with World Cup fever as things both at home and abroad seem to be spiraling toward disaster.
Cao Hamburger resorts to his own life experiences to create a semi-autobiographical movie. The movie was selected as the Brazilian entry for the 2007 Academy Awards for Best Foreign Language Film.
Hutong Days - An Zhanjun, China
Hutong Days is the story of a middle-aged man who lives with his family in a small street in Beijing and keeps up the spirit of courage and compassion through difficult times. An Zhanjun creates a compelling portrayal of an average Chinese middle class family. The director is known for his documentation of the urban life in China.
White Gold - King Deon , South Africa
The movie is based on the "American Dream" of migrant workers who arrive in Georgia, USA, to join the annual cotton harvest. The movie was showcased at the 2009 Beverly Hills Film Festival.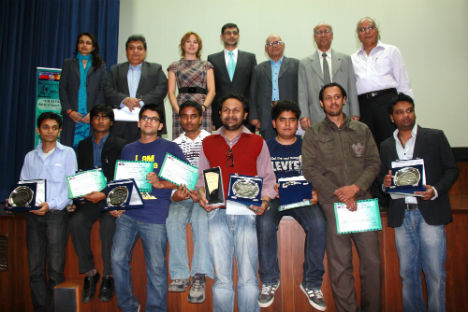 All rights reserved by Rossiyskaya Gazeta.