Russia monetizes its innovative potential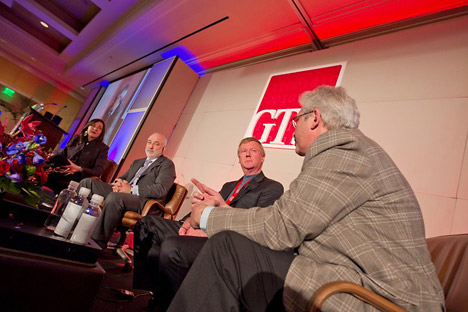 Skolkovo Foundation President Viktor Vekselberg,left (2), and Anatoly Chubais, the head of the Russian Nanotechnology Corporation, right, (2) at the first day of the Global Technology Symposium. Source: Global Technology Symposium / Press Photo
On the last week of March, a team from the Skolkovo Foundation came to Silicon Valley for the eight annual Global Technology Symposium.
The symposium has always had a bit of a Russia focus, and this year was no different, featuring a half-day of sessions exclusively on Russia.
Another highlight of this year's event was the inaugural meeting of the U.S.-Russia Bilateral Presidential Commission Innovation Working Group. The group was established at last year's G8 summit by Russian President Dmitry Medvedev and U.S. President Barack Obama and is headed by Medevedev's economic aide Arkady Dvorkovich and Robert Hormats, U.S. Undersecretary of State for Economic, Energy and Agricultural Affairs. In its first session, the working group focused on particular problems that countries can work on together, exchanged opinions on the legal framework for innovation as well as future commercialization of the new technology.
"Russia has a deep R&D (Research and Development) base," said Lorraine Hariton, special representative for commercial and business affairs at the U.S. Department of State,"but the actual understanding on how to commercialize R&D is something that needs to be developed." She also said that Skolkovo was a great opportunity for Russia to built its own innovative ecosystem.
The Skolkovo group took advantage of the presence of major U.S. tech companies to sign agreements and roadmaps with American partners. During the symposium, Cisco signed a strategy document to create R&D presence in Skolkovo, as a part of the company's multi-year commitment to invest $1 billion within the Russian Federation.
"We are very proud and excited to initiate our R&D efforts in Russia with this agreement, particularly in Skolkovo," said Marthin De Beer, Senior Vice President of Cisco's Video and Collaboration Group, "Now we'll start the work specifically in R&D in the video area We have two very large business associated with video, and video also drives a lot of networking space, so it is very important and strategic for Cisco."
The state-owned Skolkovo Foundation, which aims to establish an innovative center near Moscow, is only adding to its list of major international partners. I.B.M., Intel, Microsoft and General Electric are already working with the foundation. The center is interesting for big multinational corporations, because a partnership with Skolkovo comes with tax breaks and other incentives to make it easier to work in Russia.
For small start-ups, however, the main value comes in access to government grants, venture capital, and a mentoring program. Russian start-up Kuznech, which was present at Global Technology Symposium, works on technology to make it easier to search within videos and images online. When the company ran out of the initial investment it received from its founders, they applied for a Skolkovo grant and received $1 million. Through Skolkovo, Kuznech also had an opportunity to receive feedback from venture capital funds to gauge its competitiveness on the global market.
"We have largely improved our business model and focused more on monetization of the technology. So the feedback has helped us a lot," said Michael Pogrebnyak, Kuznech C.E.O.
Kuznech is an example of Skolkovo's model, which works to connect good ideas with the money to make them possible. The foundation searches for start-ups – both in Russia and abroad – with innovative, marketable ideas and presents them to a pool of more than 30 venture capital funds. The funds decide which of the start-ups deserve investment, and offer grants ranging from $150,000 up to $1 million.
The Global Technology Symposium. Source: Press Photo
Skolkovo was launched with a grant of $5 billion as a governmental effort to transform Russia into an innovation-based economy through partnerships with leading scientists, corporations and creating an environment for innovation. Currently Skolkovo boasts more than 350 companies and start-ups.
During the Global Technology Symposium, the Skolkovo Foundation expanded its available funds significantly when it signed of a memorandum of understanding with Bessemer Venture Partners for a $20 million investment in Skolkovo participants over two years. Bessemer Venture Partners has been investing in Russia-related businesses since 2005, and its list of successful investments includes KupiVIP and Parallels.
"At Bessemer we always try to follow the heat and the action and there is certainly a lot of it in Silicon Valley, but we also see it emerging in a very interesting way in Russia," said David Cowan, a partner at Bessemer.
Cowan said that his company invests a lot in other emerging economies, naming India as a country with rapid and sustained GDP growth, but that Russia is attractive for investors because it has both the innovative technology and large domestic market to support the start-ups.
"When it comes to innovation in Internet and computer networking companies and energy related companies we expect to find a lot more interesting activity in Russia than in any other non-U.S. regions," Cowan said.
All rights reserved by Rossiyskaya Gazeta.