Baby boom drives plot for toy story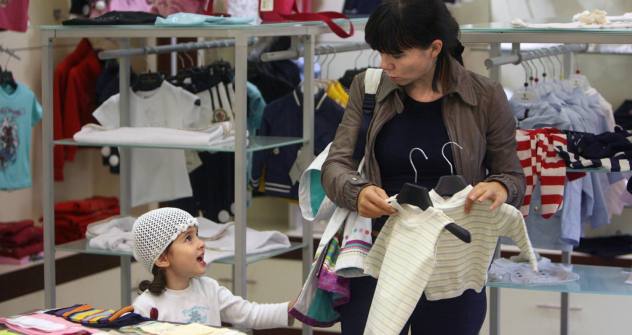 Spoilt for choice: the children's goods sector surges ahead. Source: Kommersant
Having babies is back in fashion for Russians, resulting in rocketing sales for makers and retailers of children's products.
Russia's population is no longer dwindling, as the birth rate has been steadily rising since 2009. So much so, that in 2011 Russia became the largest market in Europe for children's goods as parents splash out on the cute clothing and toys they never had when they were growing up in the former Soviet Union.


The political stability of the past decade has helped inspire more couples to start families, resulting in a tidal wave of post-Soviet babies. This has fed through to the children's goods sector and sales of baby clothes, baby food, toys and accessories have rocketed, allowing chains like Detsky Mir (Children's World) to benefit.


The toys sub-sector is one of the fastest growing of all non-food product groups, with the market expanding by 76 percent in the past five years, according to market information service PMR. Indeed, legendary UK toy store 
Hamleys is cashing in on the growth, and has just opened a new store in Moscow.


In Soviet days, it was the dream of every child to visit Detsky Mir and queues encircled the huge building. Founded in 1957, the company has transformed itself into a modern retailer and is expanding fast. Vladimir Yevtushenkov, the owner of parent company Sistema, said in December at the Russia Forum: "I believe that the turnover will amount to nearly $1 billion (£631m)." He plans to add another 25 stores to the existing 146 outlets operating in 73 cities around the country.


There were 22 million children under the age of 14 in Russia last year, and sales in Moscow accounted for one quarter of the total demand for toys, says PMR retail market analyst Katarzna Twardzik. That represents a market worth $11.3 billion against the $7 billion made on toys in 2006, according to RBC Market Research, making Russia Europe's biggest toy market.


By contrast Germany posted $10.5 billion of sales in toys in 2009 but is only growing at an annual rate of 1.5pc. Most other major European toy markets are in decline.


Despite the increase in births, this growth in sales of children's products is in line with other aspects of Russia's consumer market. For instance, Russia became the largest European milk market in 2011. By 2018, Russia is predicted to become the largest consumer market in Europe for all goods.


With a population of some 11.5 million registered inhabitants, most consumer spending growth is concentrated in Moscow, the largest city in Europe. But as Russia recovers from the economic crisis, its burgeoning prosperity is spreading slowly to the 11 regional cities with more than a million residents – known as the Millionniki – turning Russia into a retailer's paradise. Russia's per capita incomes may be half of those in Europe, but as Russians have no debt to speak of they have the same spending power as Europeans – and they love to shop.


Russia has already become the 11th-largest consumer market in the world and the second or third largest in 
Europe in many product 
categories, according to 
market research company Euromonitor.


"Rising wealth levels over the past decade have turned Russia into a middle-class country arguably for the first time in its history," says Citigroup's chief Russian strategist Kingsmill Bond.


Russia is quickly closing the gap on Germany – currently Europe's largest retail market. Russia's total annual retail turnover was $470.3 billion (£296.9 billion) in 2009, according to state statistics agency Rosstat. In 2010, this figure rose to $543.5 billion, and grew by 5.4 percent in the first half of 2011. While Germany's total retail sales are still higher than Russia's, its growth rate was not as sharp, increasing by 1.1 percent and 1.3 percent in real terms in 2010 and 2011 respectively, according to provisional figures from the federal statistics office.


With the increase in consumer spending power, Russians are looking to buy better quality and more sophisticated products. "Food is the fastest-growing segment in Russian retail," says Ms Twardzik. "It can already compete with leading western European countries."


More generally, Russia's clothing, footwear and accessories market is the fastest growing in Europe and was already worth $56.8 billion (£35.9 billion) in 2010. "If it maintains its current 10 percent-a-year expansion, then it will overtake Germany to become the biggest market in this segment within the next two years," says Ms Twardzik.
All rights reserved by Rossiyskaya Gazeta.