Ebb and flow of Kudankulam blues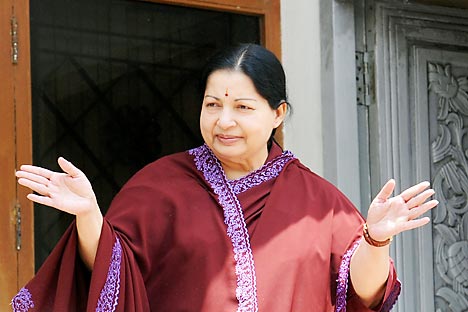 The Tamil Nadu chief minister Jayalalithaa. Source: AFP
The Tamil Nadu chief minister Jayalalithaa is a firm believer that in politics, the winner takes it all.
Having assertively pushed through the commissioning of the Kudankulam Nuclear Power Plant [KNPP], she has now demanded that whatever power is generated should belong to Tamil Nadu. She is confident the plant will go on stream in two months and, therefore, made a timely bid by writing to Prime Minister Manmohan Singh.
Jayalaithaa seems confident her request will be 'positively considered' by the leadership in Delhi. Her political instincts are very sharp and she would have concluded that Delhi would think twice before turning down her wish -- especially after she released the text of her letter to the Indian prime minister to the media. She is today a 'kingmaker' in national politics and her wish is a command.
Jayalalithaa's political courage to advance the KNPP no doubt has emboldened Delhi to dust up the country's grandiose plan for nuclear power generation. There was a swagger in the Indian prime minister's tone when he stated at the Nuclear Security Summit in Seoul last week that India's commitment to nuclear energy is unwavering.
Curiously, Jayalaithaa is becoming a stakeholder in the 'privileged strategic partnership' between India and Russia. The KNPP, of course, is built by Russian companies and the reactor and the fuel will be Russian. Furthermore, Jayalalithaa's zest for power -- given Tamil Nadu's huge needs in the wake of its rapid industrialization -- means happy days are ahead for KNPP. Plainly put, it is a matter of time now for the agreements on Kudankulam 3 and 4 to be concluded, which, in turn, would give a big boost to India-Russia ties.
But the course of true love never runs smooth. Enter Colombo. The Sri Lankan government has made a demarche to Delhi about KNPP's safety aspects. To boot it, Colombo has taken up the matter with the International Atomic Energy Agency in Vienna. Colombo has also initiated a 'baseline survey' in the sea to assess any "threat to Sri Lanka from the KNPP."
Colombo's demarche to Delhi and the IAEA is 3-fold: a) A radiation leak due to some unforeseen leak at KNPP can pose threat to Sri Lanka's Puttalam area which is just 250 kms away. b) The "anticipated" climate change could cause cyclones, "intense rainfall and storms". c) India has no previous experience in handling a "mega-level power plant" such as KNPP and has "experience only on smaller nuclear power plants of about 200 MW".
In some ways, this could be seen as the recent UNHRC move on Sri Lanka in Geneva in reverse. India voted against Sri Lanka for the first time in Geneva, favoring the 'internationalization' of the Tamil problem. Trust Colombo to come back and taunt Delhi with the red rag of the UN, too.
All rights reserved by Rossiyskaya Gazeta.