NFC Contactless payments take their first steps in Russia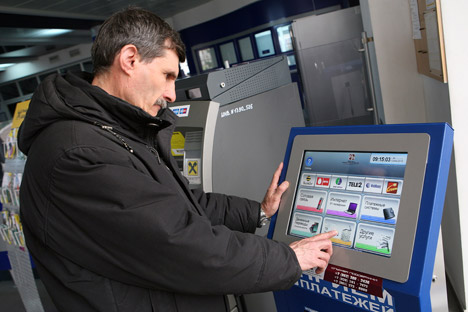 Russia is going to deploy the NFC-based contactless payment system. Source: PhotoXPress
Vimpelcom, a major Russian mobile operator, announced it will deploy the NFC-based contactless payment system it implemented in St. Petersburg last year within the Moscow subway. Widespread commercial launch in Moscow is scheduled for the end of the year.
While most offline and online purchases made in Russia are still paid in cash, contactless payment experiments have been flourishing in several Russian cities over the last two years. Last October, Megafon, another leading operator, also launched NFC payments in the St. Petersburg subway, in addition to using the system for loyalty programs with several local banks and retailers.
Back in 2010, MTS, a competitor of Vimpelcom and Megafon, introduced contactless payment in Lukoil petrol stations in Perm, as well as in the Moscow subway. Their version of NFC technology will be deployed in the public transportation systems of "a range of cities across the country," MTS announced this week.
In October of last year, MTS demonstrated a prototype of the 'Store of the Future' at the RusNanotech-2011 forum in Moscow. By bringing their phones within 10 cm, or about 4 inches, of a payment terminal, customers could make an instant payment using their bank or mobile account. For a charge of more than 1,000 rubles, or approx. $32, the buyer had to enter a PIN on the terminal.
The experiment was based on SIM cards supporting PayPass, a payment feature from MasterCard, with which MTS signed a partnership agreement that same month.
Meanwhile, the operator's own bank, MTS Bank, announced it will issue a new generation of bank cards, branded as 'MTS Dengi,' also supporting PayPass. In the MTS retail outlets, which will be equipped with NFC readers, customers will be able to make contactless payments using their bank cards or their mobile phone accounts.
Last November, the global semiconductor manufacturer NXP was reported to be prepared to produce NFC tags in the production facilities of Mikron, a leading Russian semiconductor manufacturer located in Zelenograd, a city in the Moscow region.
An notable player on the Russian NFC scene, Ambiq Tech St. Petersburg, the Russian branch of the US company Ambiq Technologies, produces mobile phone add-ons for the local market. The insert allows customers to use their phone as a discount card or a payment instrument linked to their bank account.
NFC – an acronym for Near Field Communication – was created 10 years ago. The technology has been widely discussed since Google introduced its Google Wallet last year. Global payment companies are actively working on projects using this technology.
First published in East-West Digital News.
All rights reserved by Rossiyskaya Gazeta.