A new trend in Russian philology in India: Russia is paying greater attention to projects supporting Indian specialists in Russian, such as the recent programme "Teaching Russian as a Foreign Language in India"
Russian studies in India have always been dependent on close cooperation with Russian specialists. For many years, New Delhi's top universities boasted Russian language departments with native Russian teachers. They assisted their Indian counterparts in developing curricula and mastering the methods of teaching Russian as a foreign language. Teams of authors created study guides for language students and non-language professionals (university textbooks). But, for many reasons, this cooperation began to weaken in the mid-1990s and this had an adverse effect on Russian studies in India.
We have seen a reverse of this trend in recent years, as the Russian government has been paying greater attention to supporting foreign scholars of Russian language and culture. Specifically, the Federal Agency for the Commonwealth of Independent States, Compatriots Living Abroad and International Humanitarian Cooperation, known as Rossotrudnichestvo, has been arranging various programmes to support Russian studies abroad on a regular basis.
On 22-24 March, New Delhi hosted the "Seminar on Teaching Russian as a Foreign Language in India", jointly organised by the Russian Language Teachers' Training Centre at the Russian Centre of Science and Culture in New Delhi, the publishing house Zlatoust (St Petersburg), and the Moscow Government's International Cooperation Centre.
On the first day, the delegation of teachers of Russian as a foreign language and Zlatoust specialists visited the Centre for Russian and Central Asian Studies at Jawaharlal Nehru University where they discussed their experiences of teaching Russian with their Indian colleagues. They also met with Indian students of Russian and commended their level of training. The delegation was impressed by the size of the Russian-language section of the university library, featuring fiction, scientific and popular-science literature. However, the library is missing more up-to-date material, which naturally is a cause for concern.
Discussions focused on making modern textbooks and materials available, as well as the prospects for continuing the tradition of producing jointly-prepared course materials for the local students. Representatives of Zlatoust publishing house met with university administration, its teachers, publishers and booksellers. They also had a look at textbooks available in the university bookshop.
The second day of the programme took place in the Russian Cultural Centre, where more than 50 language experts attended a conference on teaching methods based upon the new textbooks published by Zlatoust, a "Multimedia Text Training Course" master-class, and a workshop on listening competence and comprehension.
Zlatoust sales manager Gleb Golubev presented the company's latest Russian-language teaching materials, which are to be distributed to local educational institutions.
The master-class and workshops were delivered by Irina Gonchar, PhD, Assistant Professor at the Department of Russian Language for Foreigners, Faculty of Philology, St Petersburg State University. Dr Gonchar is one of Zlatoust's principal authors. The course was attended by educators from leading New Delhi universities, including Jawaharlal Nehru University, Jamia Millia Islamia, Indira Gandhi National Open University, Meerut University (Uttar Pradesh), and Shimla University (Himachal Pradesh). Certificates of participation and text books were given to everyone who took part.
A roundtable meeting was held that same day to discuss the prospects for cooperation between Russia and India in education and publishing. The event was attended by representatives of Indian universities, as and the publishing houses General Book Depot, Paragon Books and Goyal Publishers and Distributors.
In his speech, Mr Golubev said that Zlatoust was ready to cooperate with Indian universities and publishing houses, and that the licensed edition of the Indian version of The Way to Russia textbook might be the first step to resolving the problem of the shortage of modern Russian language textbooks in India. The initiative was supported by Goyal Publishers. Teachers of Delhi universities who have taught Russian using this book are preparing some minor amendments that will be included in the licensed edition – some references to China and Chinese culture will be replaced with local variants. The next phase envisages the joint preparation of the Vocabulary and Grammar Commentary to 'The Way to Russia, Indian Version' textbook by a team of Indian and Russian authors. If this project proves successful, the work will continue, and commentary will be prepared in other languages spoken in India.
The "Seminar on Teaching Russian as Foreign Language in India" also featured a presentation of the Theory and Practice of Translation series by Jawaharlal Nehru University's Dr Mita Narayan.
Dr Ramadhikari Kumar, head of the Indian Association of Teachers of the Russian Language and Literature (INDAPRYAL) and winner of the Pushkin medal, said that the opening of the Russian Language Teachers' Training Centre gave impetus to cooperation between Russian specialists and their Indian colleagues. Over the past few months, all the leading New Delhi universities have hosted lectures, master-classes and presentations of the Russian Language Teachers' Training Centre at the Russian Centre of Science and Culture on methods of teaching Russian as a foreign language. Examples include: "The Application of Computer Software and Linguistic Equipment in Russian Language Lessons", "The Contemporary Status of the Russian Language in the Context of Teaching Russian to Foreign Students", etc. The courses were attended mostly by young teachers, post-graduate students and final-year students who have chosen to become teachers of Russian.
The renewed supply of study guides and textbooks under the Federal "Russian Language" targeted programme is another reason for Indian scholars of Russian to be optimistic. More than ninety textbooks and works of popular-scientific literature have been handed over to Delhi University, which started teaching Russian more than 65 years ago. A series of textbooks has also been delivered to the English and Foreign Languages University in Hyderabad (Andhra Pradesh), Agra University (Uttar Pradesh), KCT's Krishna School in Karad (Maharashtra), Le Chatelier Matriculation Higher Secondary School in Madurai (Tamil Nadu) and the Institute of Foreign Languages at Kashmir University (Srinagar). Russian language teachers at New Delhi universities are now frequent visitors at the Russian Language Teachers' Training Centre, where they are always ready to answer any question on teaching Russian and help choose the right textbook or guide.
During the closing ceremony of the "Seminar on Teaching Russian as Foreign Language in India", Professor Kumar said that seminars and lectures of this kind provide valuable support for Indian Russian language professionals who require the assistance of Russian specialists. "The resumption of regular contact with Russian specialists, student and teacher exchange programmes, publication and dissemination of Russian language course books in India are something that we all must work on together to preserve the competitiveness of local Russian studies centres," Mr. Kumar said.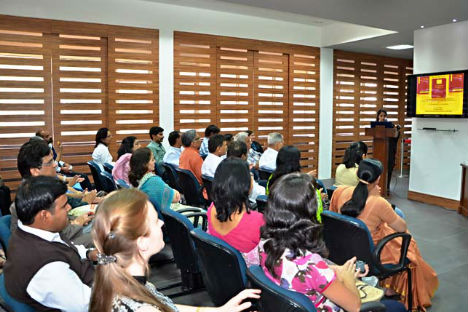 All rights reserved by Rossiyskaya Gazeta.