Patriarch Kirill's missing watch raises heated debate on the internet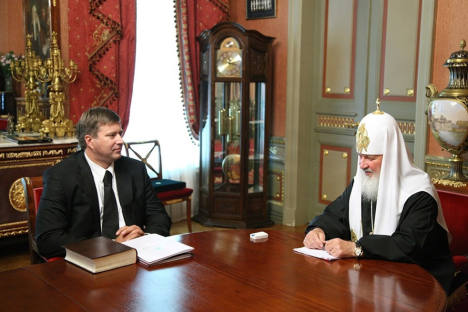 Patriarch Kirill meeting with Russian Justice Minister Alexander Konovalov. Source: Press Photo
After claiming earlier in the week to be under attack by unspecified "anti-Russian forces," the Russian Orthodox Church now faces a scandal that has grown to international proportions.
The church made headlines after Russian bloggers spotted a picture in which Patriarch Kirill's gold Breguet watch, estimated to be worth $30,000, was airbrushed by photo editing software – but the work was obviously that of an amateur. Despite the addition of some long-sleeved black shirt covering the patriarch's arm during a meeting with Russian Justice Minister Alexander Konovalov, the watch's reflection on a polished table was not erased.


"There is nothing wrong with that. Someone has given the patriarch a nice watch," said Archpriest Vsevolod Chaplin, head of the synod for relations between the Church and society, during a roundtable discussion on Ekho Moskvy radio station.


"You see, the most expensive articles have always been part of churches' ornaments and also used to make priests' attires worthy, so that daily life tools could become admirable as well. And I don't see anything wrong with that," Chaplin added.


Although dated July 3, 2009, the image grew in popularity only on April 4, 2012, when it was discovered by prominent bloggers who began to spread the picture. At the same time, a series of cartoons on the subject started to circulate online.


Right or Wrong
Shortly before the scandal was raised, the patriarch told a Russian interviewer, Vladimir Solovyov, that he had never worn the Breguet watch given to him.


"Yes, I get many gifts, including watches. Rejecting them would be an unethical attitude but it doesn't mean either that I wear them," the patriarch said.


Ekho Moskvy commentator Yury Kobaladze said, in response to Chaplin: "I see no problem with that either. What bothers us is not having the watch issue brought up but what the fact represented: 'Look, I did not really have any watch."


Ordinary believers also find the attempt to hide the watch worse than the patriarch wearing the watch in the first place. "I believe that someone who is head of such institution should not act this way. He should express other principles. In this case, he has become a public servant, with the entire negative connotation implied in this word. It is very offensive to realize that such person leads our church, and it throws the Russian Orthodox Church into shadows," said Anna Shatnova, 26, who identifies as Orthodox.


Last Thursday, the original image displaying the watch was back on the website. According to Interfax, the website's press office apologized for the debacle, saying that an amateur had been responsible for the manipulation.


"Our internal ethical code was utterly violated and this issue will be thoroughly investigated. The guilty ones will be punished severely," said a representative of the Moscow Patriarchate.
All rights reserved by Rossiyskaya Gazeta.