Reliance forges petrochem ties with Tatarstan
Tatarstan's President Rustam Minnikhanov (first from the left) during his visit to RIL refinery in Jamnagar, Gujarat. Press Photo
RIL's plan to forge strategic partnership in petrochem and oil sectors with the Russian region of Tatarstan is a win-win tie-up.
The Tatar capital Kazan in India evokes images of the high-tech helicopters it is famous for. But Tatarstan, one of the most economically developed regions in Russia, is now making news in corporate circles. Reliance Industries Limited (RIL) and Tatarstan have agreed to set up a joint working group of specialists to develop strategic partnership in petrochemical and oil refining sectors, specially in crude oil refining. The agreement was reached during the visit of a high-profile delegation led by Tatarstan's President Rustam Minnikhanov to Jamnagar in Gujarat on March 22. The visit was aimed at getting on-the-spot information about the manufacturing processes and studying the advanced oil refining technologies launched by the RIL.


The refinery, located in one of the special economic zones (SEZ), processes 33 million tonnes of crude oil annually with five percent of world's petroleum production. There are 50 technology departments at the processing plant, jointly refining main flow of crude oil for getting different types of end products. Last February, the Tatar oil refining plant TAIF-NK and US Kellogg Brown and Root signed an agreement to establish a Veba Combi Cracker (VCC) technology processing unit and Tatarstan decided to simultaneously develop collaboration with Indian counterparts for using the technology successfully.

The cooperation between India and Tatarastan has been expanding quietly since the agreement on trade, economic, scientific, technological and cultural cooperation between the Indian state of Andhra Pradesh and Tatarstan was signed in November 2003. The pact was in line with the efforts being made by India and Russia in promoting regional level cooperation between the two countries. In April 2010, Andhra Pradesh and Tatarstan signed an MoU for promotion of joint ventures pharmaceuticals, chemicals, gas-based industries, power plant equipment, bio-technology and IT.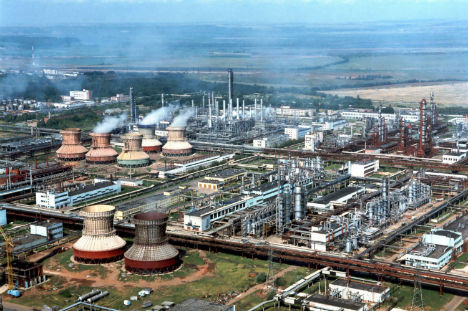 Tatarstan is one of the biggest petrochemical production and refining centres in Russia. Source: RIA Novosti


Ahead of Minnikhanov's visit to Jamnagar, Indian ambassador to Moscow Ajai Malhotra visited Kazan (March 12-15) to explore new avenues for enhancing bilateral cooperation and held talks with the Tatar leader. "Tatarstan citizens are extremely interested in India," Minnikhanov said. "Kazan's strategic location and the trade and investment incentives being offered by Tatarstan could be attractive for Indian businesses," said an upbeat Malhotra. Both sides have agreed to expand cooperation in areas such as commerce, industry, pharmaceuticals, IT, auto and auto ancillary manufacturing, petrochemicals, sports, tourism, education and technical education, science, banking and culture. During the talks, the two sides agreed that an Indian trade exhibition would be held in Kazan later this month. It was also agreed that the Indian embassy would coordinate an interaction between Moscow-based Indian pharmaceutical companies and Tatarstan representatives in Moscow soon. Prominent Indian pharmaceutical companies, including Ranbaxy Laboratory Limited, Dr. Reddy's Laboratory Limited, Lupin Laboratory Limited, INCA Laboratory Limited, Cadila Healthcare, Himalayan Drugs Limited, Ajanta Pharma Limited, are active in Tatarstan.


India's imports from Tatarstan include synthetic rubber, trucks and helicopters, instrument-making products. Tatarstan's imports consist mainly of medical products, food, raw materials and equipment for the food-processing industry. The two sides also decided that Indian automobile and auto ancillary manufacturers would be encouraged to visit Kazan. India is the largest buyer of helicopters from the Kazan Helicopter Plant. There are also plans to promote cooperation in culture, education, research, sports and tourism.
All rights reserved by Rossiyskaya Gazeta.