Russia to approach arms markets in a tank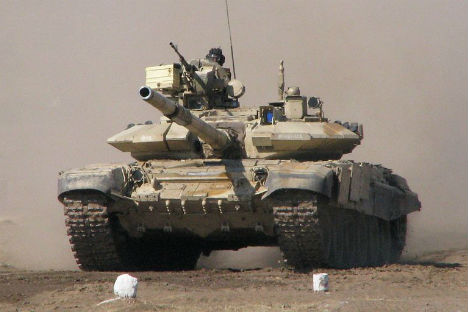 An Indian Army T-90S Bhishma. Source: en.wikipedia.ru
Russia plans to shore up its positions on the arms markets of Africa and Asia with its T-90S tank, which was successfully presented at the Defexpo 2012 Defense Technology and Products Exhibition, held in India in early April. Experts name Algeria as the first probable buyer. Specialists are not discouraged by the fact that the Russian General Staff rejected the tank.
Defexpo India 2012 became the first foreign venue where an operating model of the upgraded T-90S was shown live. New Delhi was not a random choice, as India is one of the chief buyers of previous versions of the T-90. The new tank with enhanced armour and offensive armaments may repeat the success of previous modifications.
The T-90 is the main battle tank designed and built by Uralvagonzavod in the late 1980s and early 1990s. The T-90 weighs 46.5 tons, has a maximum speed of 60km/h and has an operational range of 550km. It is armed with a 125mm tank gun (with 42 rounds of ammunition) and guided missiles. Its armour ranges from 800mm to 830mm. The T-90S, an upgraded version, is equipped with a more powerful engine and a new fire control system. It also features a remote-controlled 7.62mm machine gun and Relikt explosive reactive armour.
Vyacheslav Dzirkaln, deputy director of the Federal Service for Military-Technical Cooperation, assured Kommersant that the T-90S attracted great interest at Defexpo India 2012. "The countries of the region showed genuine interest, and high-ranking military officials approached us, so it's a good thing that we brought the tank," he said. Russian experts agree that the tank will be a success. "The T-90S upgraded version was essentially the only new product at the exhibition," Ilya Kredov, deputy chief editor of National Defense magazine, told Kommersant.
Uralvagonzavod is also satisfied with the tank's foreign debut, suggesting that they already have provisional agreements with potential buyers. "During the presentations and negotiations we reached agreements on programmes aimed at the procurement of military products made by the corporation, primarily the upgraded T-90S," the developers of the tank said. Uralvagonzavod has not elaborated on the details.
Original text is published in Kommersant
All rights reserved by Rossiyskaya Gazeta.