India and Russia reaffirm commitment to fight terrorism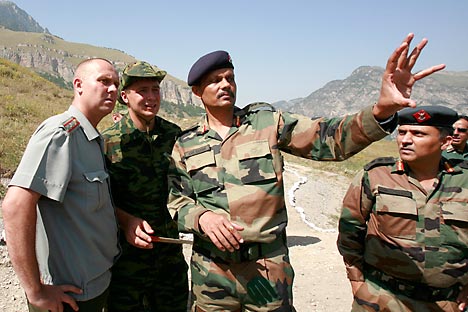 Russian and Indian officers talk on a range outside Russia's city of Vladikavkaz, July 28, 2010. An Indian army delegation arrived in preparation of a joint Russia-India anti-terroristic drill. Source: Reuters/Vostok-Photo
At the 7th meeting of the Joint Working Group (JWG) on Combating International Terrorism, India and Russia discuss cooperation in such important areas as fighting cross-border terrorism and combating illicit drug traffic. The JWG arranges to hold its 8th meeting in Moscow in 2013.
The 7th meeting of the India-Russia Joint Working Group on Combating International Terrorism was held on April 11 in New Delhi. It was co-chaired by Asoke Kumar Mukherjee, Additional Secretary of the Ministry of External Affairs of India, and Ambassador Alexander Zmeevsky, the Special Representative of the President of the Russian Federation on International Cooperation in Combating Terrorism and Transnational Organized Crime. The delegations comprised the representatives from relevant ministries and agencies of both countries. The head of the Russian delegation called on Foreign Secretary Ranjan Mathai.
The discussions were held in an atmosphere of trust and mutual understanding. The parties emphasized that their cooperation in countering new challenges and threats is an integral part of the Indian-Russian special and privileged strategic partnership, expressed mutual concern about the continuous threat of cross-border terrorism, and reaffirmed their commitment to consolidate bilateral interaction in the fight against this global scourge.
The parties also underlined the role of international efforts in preventing and suppressing terrorism including the consistent implementation of the UN Global Counterterrorism Strategy and the relevant resolutions of the UN Security Council. They noted the importance of the early conclusion of the negotiation process aimed at agreeing within the framework of the UN General Assembly on the draft Comprehensive Convention on International Terrorism (CCIT) that was put forward by India.
The sides noted that India and Russia have a significant capacity for developing their interaction in countering the criminal proceeds laundering and financing terrorism, and establishing a partnership dialogue within the Financial Action Task Force (FATF) and modeled on it the Eurasian Group (EAG) on Combating Money-Laundering and the Financing of Terrorism.
The parties expressed their concern about the issue of drug trafficking which undermines peace and stability in the region. They also noted the need to step up their interaction on the basis of the Intergovernmental Agreement on Cooperation in Combating Illicit Traffic in Narcotic Drugs, Psychotropic Substances and their Precursors signed on November 8, 2007. The appropriate agencies of India and Russia will continue to actively engage in the dialogue to enhance the exchange of information and experience related to countering new challenges and threats.
The Joint Working Group on Combating International Terrorism will hold its eighth meeting in Moscow in 2013.
All rights reserved by Rossiyskaya Gazeta.