Is the Indo-Pak dialogue aimless?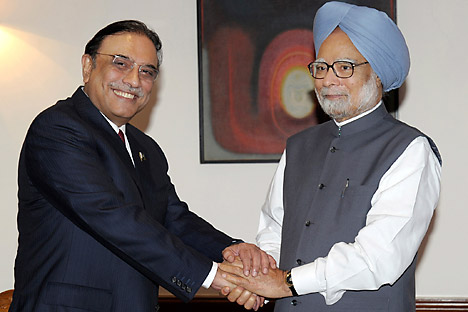 Pakistan President Asif Ali Zardari, left, shakes hands with Indian Prime Minister Manmohan Singh prior to their meeting at the latter's residence in New Delhi, India, Sunday, April 8, 2012. Source: AP
In the context of Pakistani President Asif Ali Zardari's pilgrimage to India last week, the observers and analysts of the dialogue process between the countries split into 'total win or total defeat' minded negativists, eager to 'go extra miles' enthusiasts and ready to 'build peace through pieces' realists.
In the context of Pakistani President Asif Ali Zardari's pilgrimage to India last week, which was later combined with the dialogue process between India and Pakistan, it will be appropriate to analyze whether the dialogue process is just an aimless rendezvous or it has subtler implications far beyond the dialogue itself. The observers and analysts of Indo-Pak dialogue process can be broadly classified into three categories: the negativists; the realists; and the enthusiasts. The negativists are the detractors of the peace process, and for them any dialogue is 'nothing' but just eyewash or smoke screen to divert the real issues between the two countries. For them, the problems can be resolved through violence, both overt as well as covert. They see the developments from a direct yes or no perspective, and for them there are no middle positions or mid-paths. For them, it is either total win or total defeat, which can be made possible through direct militancy and war. They are impatient enough to see a long term, sustainable, grass-root peace process, taking shape and gaining results; rather they are anxious to resolve all contentious issues including Kashmir through direct violent action, without any involvement of people and without peaceful methods.
It will be interesting to calculate whether such a perspective on India-Pakistan relations can really work in an increasing complex world in which the costs of violence have been manifold, and in which it is not war rather peace that has taken the lead. Can India and Pakistan resort to war and resolve the contentious issues? The answer is a straight no. Both the countries have resorted to four wars (including the limited one in 1999), and fought many low-intensity border skirmishes such as firing and shelling. Is there any solution so far? Again the answer is a straightforward no. Whether it was militancy or heavy presence of security forces in conflict zones, the relations are clearly marked by death and destruction, nothing else. Conservative estimate put death toll due to violence at thousands. The loss to livelihood, the loss of human capital, the loss of secular framework, and their various outcomes such as displacement, unemployment and rising anti-social activities are really overwhelming. The formation of militant organizations like Lashkar-e-Toiba, Hijbul Mujahideen, Jaish-e-Mohammed and host others have achieved nothing tangible in terms of peace and development. These organizations eliminated many innocent lives and created atmosphere of fear and intimidation, and reverted back the economic frame of the border areas like Kashmir many decades back. Hence, when Syed Salahuddin, the leader of United Jihadi Council, an umbrella organization of terror networks, proclaimed that the meeting between Zardari and Singh on 8 April 2012 is nothing but 'aimless,' it is nothing but an invocation to more violence.
In case of enthusiasts, who go extra miles for ever, the problems in relations can be worked out easily. It includes some of the civil society activists, some grassroots workers, some retired politicians and bureaucrats, who argue that relations between the two states are good, and there are some obstructions which must go to make the relations comprehensive. They also blame governments of both the countries as obstructionist to the peace and dialogue. They harp on the glorious past, and focus on the relations of culture, dance and drama and other art forms as markers of vibrant relations between the two countries. They seem to oversee the acts of violence, such as the attack on Mumbai in 2008, as stray incidents which must not cloud the relations. The optimism in this case galore, and in some cases far outweighs or surpasses the real situations on the ground. The issues of state patronage to militant organizations, the rise of militant threats (interesting pointer is: when Prime Minister Singh was talking to President Zardari over lunch in Delhi, a commander of Lashkar-e-Toiba Azam Cheema was discussing with Hafiz Saeed plans of attacks in India), the possible fall of nuclear materials in the hands of organizations like Al Qaeda, the collusion between Pakistan army and the Taliban, the asymmetry of relations between Pakistan army and the civilian government, and also the lack of substantial support across political spectrum to Dr Singh in the peace process do not factor in their calculations and assessment of India-Pakistan relations.
The realists too have their world view, and India-Pakistan relations also appear in their calculations but from a different platform. They do not see the relations in absolute terms. They are not afflicted by win-defeat syndrome; the game of zero-sum is out of their lexicon. For them, it is peace through pieces, i.e. building peace through piecemeal measures, through incremental change. The relations are evolutionary and it must move forward. As in the case of any equations, whether temporal or not, the relations cannot be static, it must move upward or downward. The realists while fully aware of complexities involved in relations, with tremendous patience and sense of pragmatism, believe that equilibrium can be maintained by building on positives and relegating the negatives. Every positive step must be consolidated so that way for another positive step can be made to boost relations. The relations are not like snake and ladder game, which move very fast beyond predictions. Every positive step must be appreciated. Whether it is Pakistan granting MFN status to India, or moderating its position on Kashmir, or India moving ahead to discuss contentious issues like Kashmir, all these must be appreciated and built upon. As Ranjan Mathai, India's Foreign Secretary told to a foreign press on 10 April 2012, "I wouldn't have been as optimistic six months ago." India raised the issue of Mumbai attack and Hafiz Saeed, and Pakistan the issue of Kashmir, Sir Creek and Siachen, but both the leaders were realistic enough to realize the complexity of the issues and decided to move forward. Former Pakistani Prime Minister Nawaz Sharif called the Zardari visit to India 'a step in right direction,' and argued, "There should be negotiations between India and Pakistan on all issues, including Kashmir, so we can move forward on resolving these issues."
India-Pakistan relations cannot be put into any straightjacket, and they have their own momentum, and in this process certainly the constituency of the detractors of peace process has shrunk. One of the prominent Kashmiri leaders, Mirwaiz Umar Farooq said, 'We are happy over the normalization of relations between the two neighbors as better relations between them are in the interest of Kashmiris." Let Zardari visit again to Ajmer Sharif or any other part of India with a good will mission and his son Bilawal twit "AOA (Assalam-o-Alaikum) India Peace be with you." Singh has accepted the invitation of Zardari and that itself is a good sign. Let the good will between India and Pakistan snowball and trample the detractors of peace, and India and Pakistan achieve tangible peace in one of most volatile regions of the world.
Dr Debidatta Aurobinda Mahapatra is associated with Centre for South and Central Asian Studies, Central University of Punjab, India.
All rights reserved by Rossiyskaya Gazeta.